IM601 32A 60A 250VAC 5VDC 12VDC Electromagnetic Latching EV Power Relay for AC Wallbox Charger
IVY Latching Relay
IVY specializes in the development and manufacturing of high-quality latching relays. We offer a line of latching relays spanning from 32A to 200A for single-phase Two-phase and three-phase switching purposes. our relays meet the industry's highest performance standards and offer the best value in the energy management market. In particular, we have developed an innovative relay switch-motor latching relay.
IM601 32A 60A Bistable Latching Relay
Switching Capacity: 60A, 250VAC; Single/Dual Coil Optional
Can be Used as EV Charger Relay/Solar PV Relay
4kV dielectric strength between coil and contacts
Custom assemblies available with flex wire and/or copper straps, and/or with integrated shunt
RoHS compliant materials and process
IEC62055-31 UC2 Certified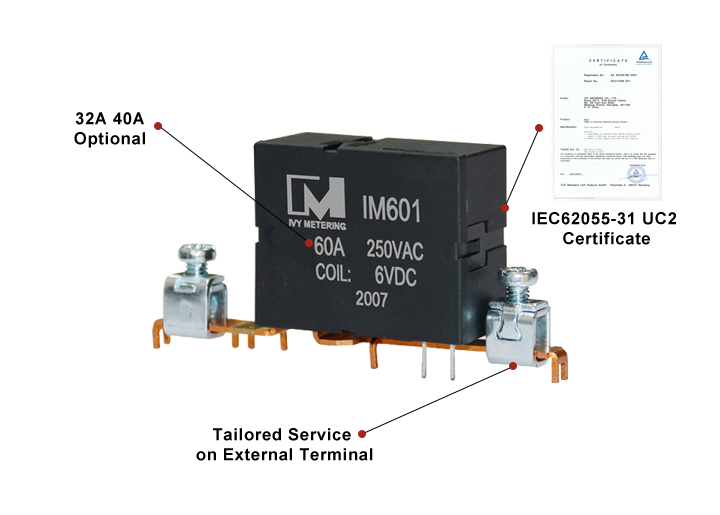 Application Scenarios

1) Smart meters: IC card meters, prepaid meters, single-phase meters, three-phase meters.
2) Reactive power compensation: synchronous switch, composite switch, smart capacitor.
3) Intelligent control: smart home, solar street light control, automation equipment, etc.
4) New Energy Field: EV charger, PV Inverter
Product Parameters
Max. Switching Current: 60A

Max. Switching Voltage: 250VAC

Max. Switching Power: 15000 VA

Contact Arrangement: 1A/1B

Nominal Voltage: 6~48VDC

Dimension(mm): 38×30×16.5

Contact Material: AgSnO2

Electrical Life :>10,000cycles

Mechanical Life :>100,000cycles

Ambient Temperature: -40~+70℃

Ambient Humidity: 45%~90%RH

Vibration :10~55Hz,1.5mm(DA)

Power Consumption Single Coil:1.5W, Dual Coil:3W

Contact Resistance :<1.5 mΩ

Insulation Resistance: 1000MΩ(DC 500V)

Dielectric Creepage: 10mm

Weight ( g ) :≈33g