EM613001 Din Rail 48V 60V Solar Battery Smart PV Energy Monitor DC Power Meter for Off-Grid System
Product Details

Battery Management Systems (BMS) plays a critical role in most new energy storage technology. The battery energy storage is direct current, and the dc meter is to measure the storage or consumption of the direct current, and it is generally placed at the output of the energy storage battery. In order to ensure the good operation of the battery management system, dc meter is esstential, dc meters can measure and monitor all important dc parameters: voltage, current, power and energy, etc.
EM series include AC meter and DC meter. Generally AC energy meters are used for measuring alter-current while DC meter are used to measure direct current. EM613001 is a DC metering device Rs485 DC energy meter sampling by shunt with high accuracy. EM613002 is wireless rs485 din rail dc meter with nb-iot communication. EM series dc meter is designed for scenarios such as DC panel, battery storage system, charging pile and telecom base stations. This meter can measure voltage, current, power and active energy in DC system. It be used as local display and used in measuring system.
Solar PV panels are a growing source of renewable energy which involves DC electricity production. The need to monitor these systems, providing accurate energy measurement before conversion to AC is crucial for reflecting true efficiency and conversion losses. The DC charging station has an integrated converter that transforms the alternating current from the mains into direct current. This allows the electricity to be fed directly into the vehicle's battery.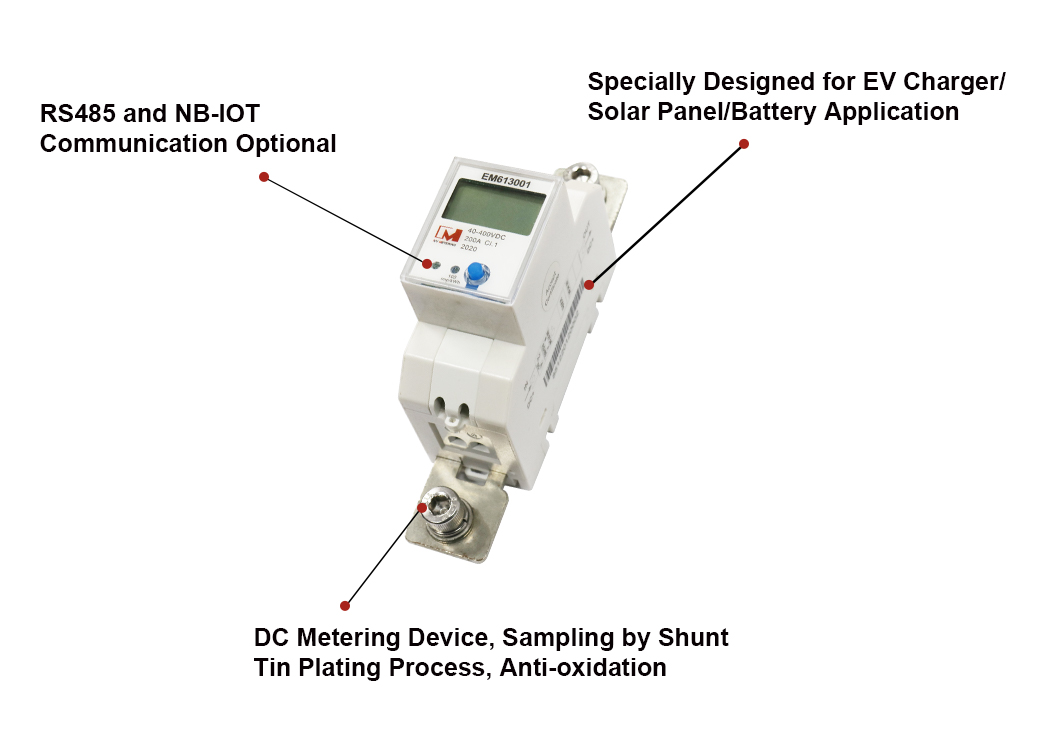 EM613001 DC Meter Advantages
DC metering device, shunt sampling
Referance voltage(DC): 40V~400V; 5~1000V(EM619001)
Over-current/voltage Alarm (Programmable)
LCD Backlight, Four Tariffs with 8 Time Slots

Net metering for Renewable systems
This DC din rail meter support RS485 communication, through RS485 and concentrator (EM613002, one NB concentrator can connect 25 RS485 DC meters) to communicate and upload data to the system platform.
DC Metering Application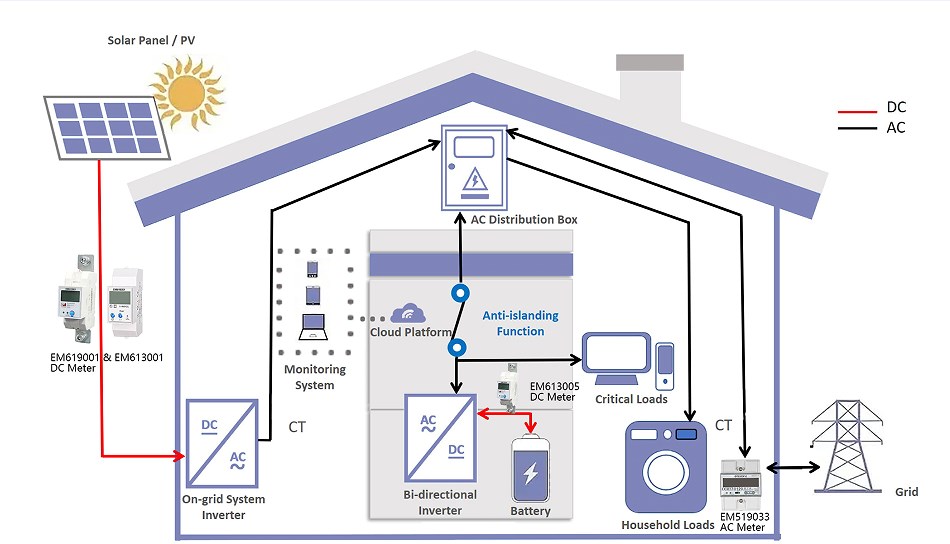 Product Parameters

Reference voltage: DC40V-400V

Current: 10~240A

Operation temp.: -20℃~+70℃

Accuracy class: Cl.1.0

Average humidity: 75%

Relative humidity: 95%

Communication: RS485 Communication

Communication protocol: DTL645

Impulse constant: 100 imp/kWh

LCD display: LCD 6+2

Power consumption: ≤0.4W,≤8VA

Standard compliant: GB/T 17708-2017 Static DC Energy Meter
Features
Rate: Four Tariffs with 8 Time Slots

Alarm function: over-voltage, over-current alarm, threshold can be set.

Event record: The device itself stores the last 20 records when overvoltage, undervoltage, and overcurrent occur

Display: LCD displays DC power, current, voltage, tariff power, data wheel display (time interval 5S), you can also turn pages by pressing an external button.

Backlight: Press the page turning button to light up the backlight, which is convenient for viewing data when the light is insufficient

Communication: Supports RS485 communication with protocol DTL645, which allows parameters setting and read or write power data