IVY-CT-PCB-01-10A High Presicion RoHs 2000:1 10A 50Hz PCB Mount CT Micro Current Transformer
Product Detail
1. Current Transformer is also called instrument transformer, including current transformer and voltage transformer.
2. It is used to proportionally convert high voltage or large current into standard voltage (100V) or standard small current (5A or 1A, rated value), to realize the miniaturization and standardization of the measuring instrument, equipment protection and automatic control equipment.
3. Current transformer can also be used to separate the high voltage system to ensure the safety of the personal and equipment.
4. This is IVY compact current trasformer with small size and PCB design, low cost, high accuracy, easy to fix and install. Widely application for electronic energy meter, power transducer, other power and energy monitoring devices, over current protection circuit of motor and other electrical appliances. For some applications, PCB mount current transformers are very suitable, and they can be easily assembled on the print circuit board (PCB) of electricity meters, test instruments, without the extra wire connecting.
Product Feature
Max Current Up to 60A, 1(60A)/0.5mA, Ratio: 1000/2000/2500:1
Withstand Voltage 4KV, High Accuracy: 0.1 Class
PCB Design, Stable Installation, Small Size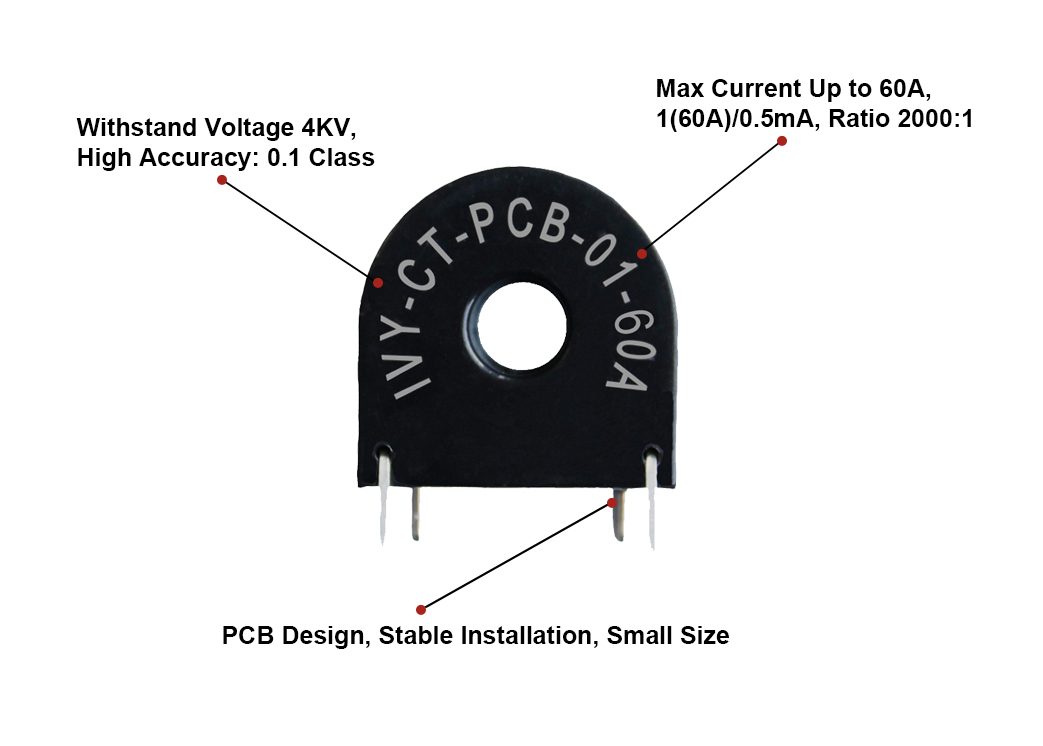 Technical Parameters and Dimension