MD0630T41-1 IEC62955 6mA DC Differential Current Sensing Leakage Detection RCD Device for EV Charger
Product Introduction
The MD0630T41A-1 is a high-sensitivity residual current device(RCD) that can detect leakage current of DC and AC. If DC&AC fault occurs, It also outputs a digital signal informing that leakage current of DC/AC has been detected. The MD0630T41A-1 sensor with an integrated electronic evaluates the sum of all currents within the bundle of cables feed through the sensor hole, at usual operation this sum is zero. Any AC or DC deviation of the sum of all currents direct to a leakage which can only happen from the charger to the car and represents an isolation issue. The RCD sensor electronics evaluate any current deviation and has integrated 5V outputs of AC and DC alarms and an digital output for AC & DC leakage current.
With an increased demand of electric power charging due to electrification of drivetrains in eMobility applications new standards in Europe and partially globally have been established to increase safety due to a new source of potential high voltage isolation issues and the exposure to electric shocks of humans. The active standard for Mode 2 AC charging (IEC 62752) requires an electric supply disruption if a DC leakage of 6mA or an AC leakage of 30mA is present. The available MD series sensor is the ev charging components to comply with the established standard. From 2022, a new standard will specifically be applicable for AC wall chargers and will establish a Mode 3 charging in compliance with IEC 62955. While the concept is the same, the threshold levels will change as the maximum power level will be increased to more than 100A charging current, the DC leakage threshold stays at 6mA, but the AC leakage will increase to 60mA. To support this new standard, IVY will release further sensors of the MD series that will comply with the European safety demand.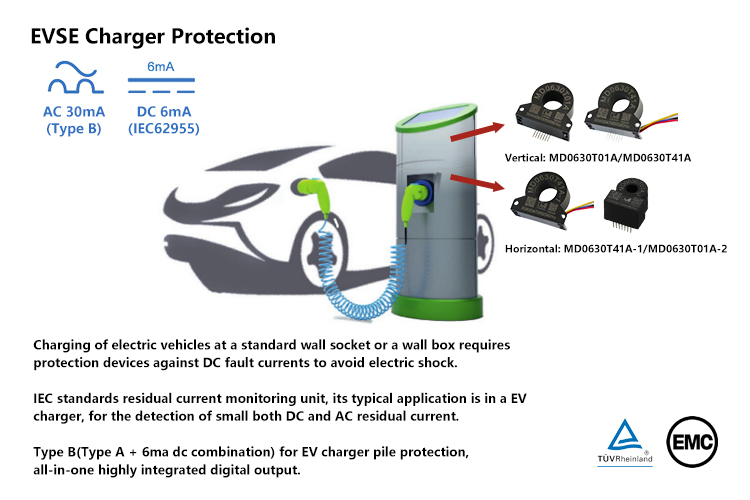 Product Feature
1. Fixed 6mA DC and 30mA AC trip levels; 3000A surge withstand capability; "Fault" output – Open collector
2. Small Size, Integration Design, Vertical(Pin, Pin&Cable Type)/Horizontal(Cable Type) Mounting Optional
3. Integrated self-monitoring and test functions, Digital Output, Residual Fault Leakage Current Protection
4. AC DC Leakage Data Readable; Alarm Value Programmable; 3 Way Alarm Outputs
5. URAT Comm, with Modbus Protocol; Standard: EN 61000-6-3:2007+A1 ,EN IEC 61000-6-1:2019
6. Professional Certification: TUV(IEC62955/IEC62752/IEC61851-1/IEC62196); UL 2231-1/UL 2231-2; CE-EMC
7. Used in EV Charger Project (Suitable for single phase loads up to 80A, three phase loads rated up 3*32A)
Product Parameters
Wide voltage input: 12V±20%
Measuring current range: DC current 2-15mA; AC current 3-100mA (default threshold: DC 6mA, AC 30mA)
Accuracy class: at 25℃, DC±0,2mA, AC±0.3mA
Working environment temperature: -25℃~+80℃
Installation: Cable Type
Plastic casing: SIP encapsulation
Typical Application

As the residual current protective devices (RCD) is widely used in low-voltage distribution system to prevent electric shock accidents, leakage damage of electrical equipment and fire caused by electrical leakage. RCD is widely used as a basic electrical protection device in the field of electric vehicle charging application (IC-CPD and AC Charger/Wall-box).