IM1201T Customized 120A 250VAC 12VDC 3NO 3NC 3 Phase High Power Magnetic Latching Relay with CT
Prouduct Detail
IM1201T is a 120A 3 phase latching relay built for the global metering market. This relay is able to switch 120 Amps while still maintaining a very low temperature rise. It is also available with an integrated CT/Shunt.
IM1201 is ideally designed for electric meters for the global metering market. Our metering customers have been pleased with the product's performance and reliability. Given our ability to understand our customer's needs, we've been able to design, build, and test customized solutions that allow them to receive our products and plug them right into their systems without additional assembly.
IM1201T is a custom 3 phase relay, it has stable performance and long service life. It's main characteristics as follows:
Three poles contact, three way control, contact form: 3A/3B
Maximum switching current 120A, with auxiliary switch
UC3 capability as per IEC 62052-31, RoHS compliant
Custom Assemblies with Integrated Shunts, Flex-wire and Copper Extensions and Brass Terminals
Wide Application for Energy Meter, EV Charger, IOT Device, Ligting System, Industrial Control.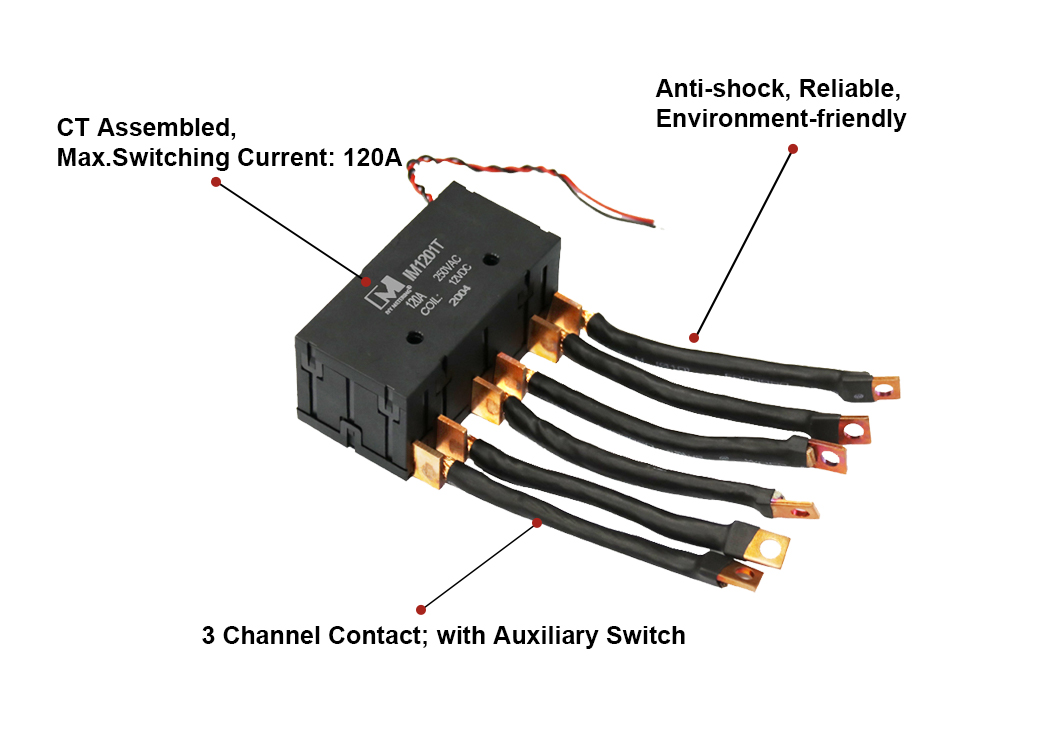 Product Parameter
Rated Load: 120A 250VAC

Contact Form: 3A/3B

Rated Coil Consumption: 3.0/6.0W(30ms)

Dielectric Strength: 4kV

Compact Size:78.6*40.3*37.8mm

Contact Material: AgSnO2

Max. Switching Power: 30000VA

Contact Resistance; <2.0mΩ

Pick-up Time; 30ms

Release Time: 30ms

Electrical Endurance; 10000 Cycles

Mechanical Endurance; 100000 Cycles

Temp.Rise; ≦55k

Ambient Temperature: -40℃~70℃

Ambient Humidity; 5%~98%RH