EM619001 200A 600V Din Rail Digital RS485 Shunt Bidirectional DC Energy Meter for Solar PV Strings
Product Details

1.There are 4 models of DC meter: EM613001/EM613002/EM619001/EM613005. It's worth to highlight that RS485 & NB-IOT communication are optional.
2.EM series DC energy meters are designed for measuring and monitoring in DC systems.
3.The din rail DC energy meters can measure of important DC parameters: Voltage, current, power and energy etc. It also support bi-directional measurement. All data in the meter are accessible via RS485 using Modbus RTU/DTL645.
4.The meter working with DC power supply. Input voltage range up to 1000VDC, and current inputs are flexible with DC shunt.
5.The multi-tariff version has a RTC equipped inside, it can provides multi-tariff information and monthly records.
EM619001 is used to monitor and control DC system. They also support limit alarm, analog output, digital input, relay output and communication functions. It has the function of energy metering, data processing, real time monitoring and LCD display. It has the advantage of high overload, high accuracy, low power consumption, automatic data save after power failure, long service life and so on.
The meter can have relay alarm output and digital input function; You can set the ratio, alarm, and communication through the meter panel keys according to different requirements. The meter can have event recording of switch (Modbus protocol), programming and event setting records(645 protocol), instantaneous and timing freeze function of data (645 protocol), maximum and minimum value recording function of voltage and current power. It is suitable for DC energy metering of EV charging piles, battery, base station, solar panels and other devices with DC signals. It is also suitable for DC power distribution electricity system of mining industry, civil buildings, building automation system base and so on.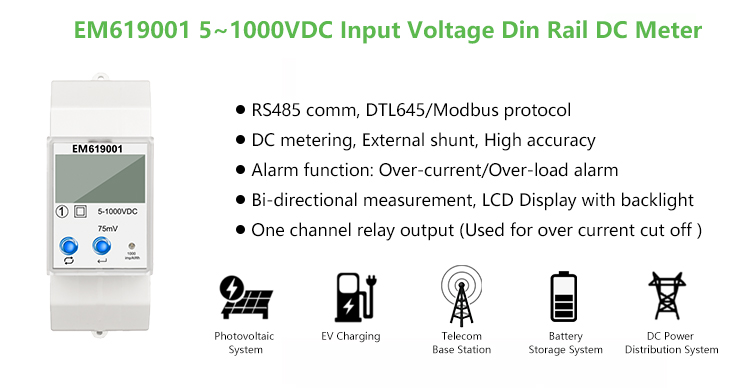 Product Parameters
Reference voltage: DC5V-1000V

Current: Measuring up to 2000A

Shunt Signal Input: 75mV(max)


Operation temp.: -25℃~+70℃

Accuracy class: Cl.1.0

Relative humidity: 95%

Communication: RS485 Communication

Communication protocol: DLT645/Modbus

Impulse constant: 1000 imp/kWh

LCD display: LCD 6+2

Power consumption: ≤0.4W,≤8VA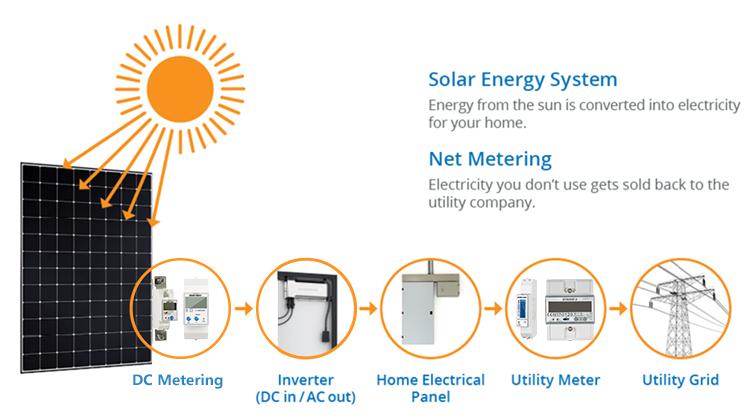 Features
RS485 communication: used for parameter setting, data reading; DTL645 protocol/Modbus Protocol

DC metering: using shunt sampling, high measurement accuracy; can measure DC power, current, voltage.

Alarm function: Over-current alarm: When the current exceeds the CT1 value set by the meter, an alarm event occurs, and the alarm light on the electrical surface panel lights up (yellow light), At the same time, the value of the corresponding alarm status register will change, and the user can read this register through communication to determine whether an over-current alarm has occurred.

Display: LCD with backlight ,Support Various parameters display,energy data and Instantaneous parameters

One channel relay out put (Used for over current cut off )

Firmware upgrade: RS485 local upgrade