D129072 High Accuracy Over-current Alarm 200mA-100A M-bus CT Split Core AC Current Sensor
Product Details
Our wireless current sensors (CT) simply clip around a cable and measure the alternating current (AC). The small, energy-harvesting devices use ultra-low power wireless and battery-less technology making them easy to install and very low maintenance. They can easily be fitted inside a machinery panel, distribution panel or other suitable location. Its main features as follow:
Split core allows you to directly monitor AC current without breaking or interrupting supply.

Easy to remotely monitor devices that place in inaccessible or harsh environments.
They are easy to install
Easily snapped over pre-existing wires
Ideal for Portable electricity monitoring device
Real-time monitoring, over-current/over-temperature protection, current value can be read without secondary transformation ratio
With M-BUS communication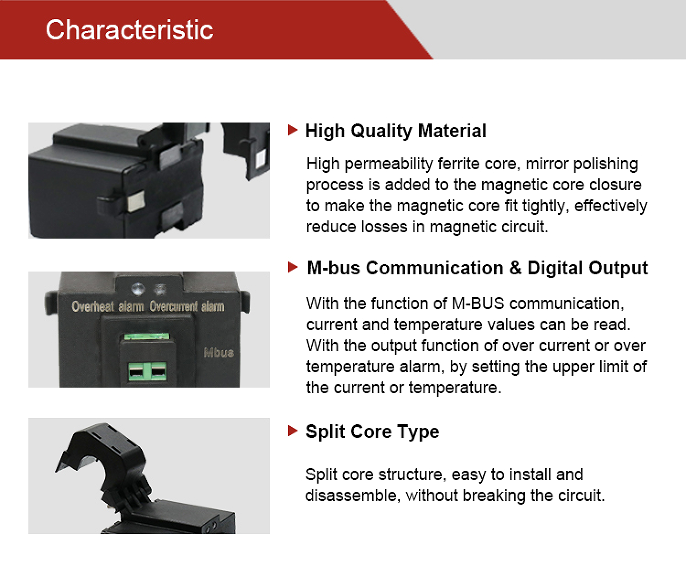 Product Parameters
Measuring Range:0.25A~100A
Current accuracy : Class 1
Temp accuracy: 2℃
Rated frequency: 50~60Hz
Threading bore dimension: ≤φ12mm
Response time: 200mS
Withstand voltage: >3000Vac
Temp range: -20/+85℃
Aplication
Sub-metering
Power factor correction devices
Metering (electrical energy meters)
Active power filter
Power measurement device for PLC
Sensing Overload Current
Ground fault detection
Digital fault recorder
In-factory display or in-home display
Electrical testing equipment and relay protection
Current, power, energy monitoring devices