IM-M1001 Mini Motor Control High Power Magnetic Switch 80A 9V Motorized Circuit Breaker Latching Relay
IVY Latching Relay

IVY specializes in the development and manufacturing of high-quality latching relays. We offer a line of latching relays spanning from 32A to 200A for single-phase Two-phase and three-phase switching purposes. our relays meet the industry's highest performance standards and offer the best value in the energy management market. In particular, we have developed an innovative relay switch-motor latching relay. IVY latching relays are highly customisable with many variants of terminal arrangements, which can be made to suit customer's needs. Shunts and current transformers can also be included to special order. Compared with magnetic latching relay, motor latching relay with 500mT permanent magnetic immunity, prevent contacts from being interfered by magnetic fields. And, the size is much smaller.
IM-M1001 80A Small Motor Latching Relay
Contact Form:1A/B
Switching Capacity:80A,250VAC
Permanent Magnetic Immunity to 500mT
Power Consumption:3W(25ms)
Compact Design of Dimension:29*23.5*16mm
Custom assemblies available with flex wire and/or copper straps, and/or with integrated shunt
RoHS compliant materials and process.
IEC62055-31 UC3 Certified with Appearance Patent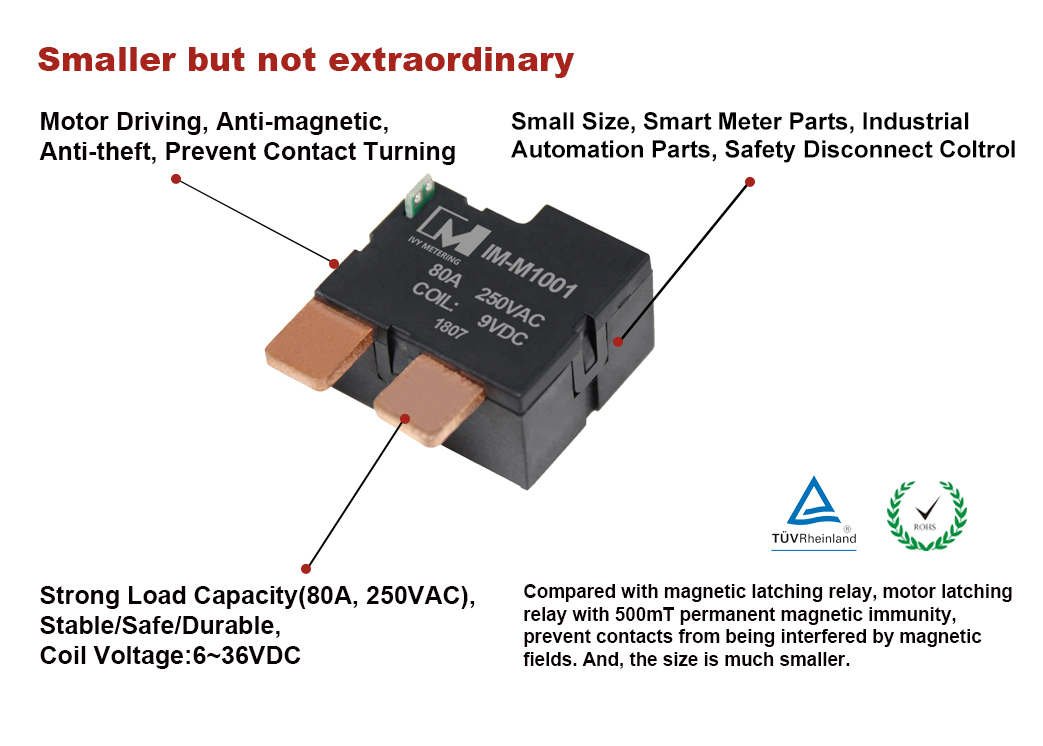 Application Scenarios

1) Smart meters: IC card meters, prepaid meters, single-phase meters, three-phase meters.
2) Reactive power compensation: synchronous switch, composite switch, smart capacitor.
3) Intelligent control: smart home, solar street light control, automation equipment, etc.
4) New Energy Field: EV charger, Solar PV system
Product Parameters
Basic Dat

a

Dimension(mm)

26.

5

×

23.5

×

15

Weight ( g )

≈40g

Contact Arrangement

1A/1B

Contact Material

AgSnO

2

Ambient Temperature

-

22

~+

5

5ºC

Vibration

10~5

5

Hz

,1.5

mm

Shock

1000m/s²

,

(100g)

Specifications Dat

a

Rated Voltage

9v

Power Consumption

<

3

W

Max. Motor Voltage

18

V

Max. Switching Current

80

A

S

urge

C

urrent

60

00A/10ms

Motor Resistance

14±2

Ω

Contact Rating(Res)

250VAC,

8

0

A

Contact Voltage

<60mV

Contact Resistance

<

1.0

mΩ

Dielectric Strength

Motor to

C

ontact

4000VAC

,50/60Hz

1min

Across

O

pen

C

ontact

2000VAC

,50/60Hz

1min

Electrical Life

(120 cycles/H)

5,

000

Mechanical Life

(3600 cycles/H)

100,000

Pulse Time

>=30ms(30ms~40ms)

Picking-up Time

(@9V)

<=25ms

Release Time

(@9V)

<=25ms

Insulation Resistance

>=1000MΩ(500VDC)