IM1002 100A 250VAC 1A 1B Dual Coil 12V 24V Electric Meter Latching Relay for Disconnect Control
Prouduct Details
Latching relay is a new type of relay which uses magnetic principle to control circuit's on and off. Its normally open and closed state are provided completely by permanent magnet steel'working and completed the conversion of on-off state base on the triggering of a certain width pulse signal.
We are a leading Supplier of Latching Relay for Energy/Smart Meters - IVY. We are supplying latching relays, magnetic latching relays, 90A latching relays, 120A latching relays, 80a latching relays, 60a latching relays, magnetic relays, 80a latching relays with two pole, 100a latching relays, photovoltaic relays, home appliances relays, solar relays, dc power relays, meter relays and many more.
IM1002 is an IEC 62055-31:UC3 certification bistable latching relay built for the global metering market. This relay is able to switch 100 Amps while still maintaining a very low temperature rise. It is also available with an integrated shunt.
IM1002 is ideally designed for electric meters for the global metering market. Our metering customers have been pleased with the product's performance and reliability. Given our ability to understand our customer's needs, we've been able to design, build, and test customized solutions that allow them to receive our products and plug them right into their systems without additional assembly.
Product Features
100A 250VAC switching capability
Single coil and double coils are all available
Low power consumption, Pulse driven operation
Strong resistance ability to shock and vibration
Dielectric strength 4kv(coil to contacts)
Long service life, High reliability
Environmentally friendly products(Accord RoHS)
Comply with IEC62055-31 UC2 UC3 standard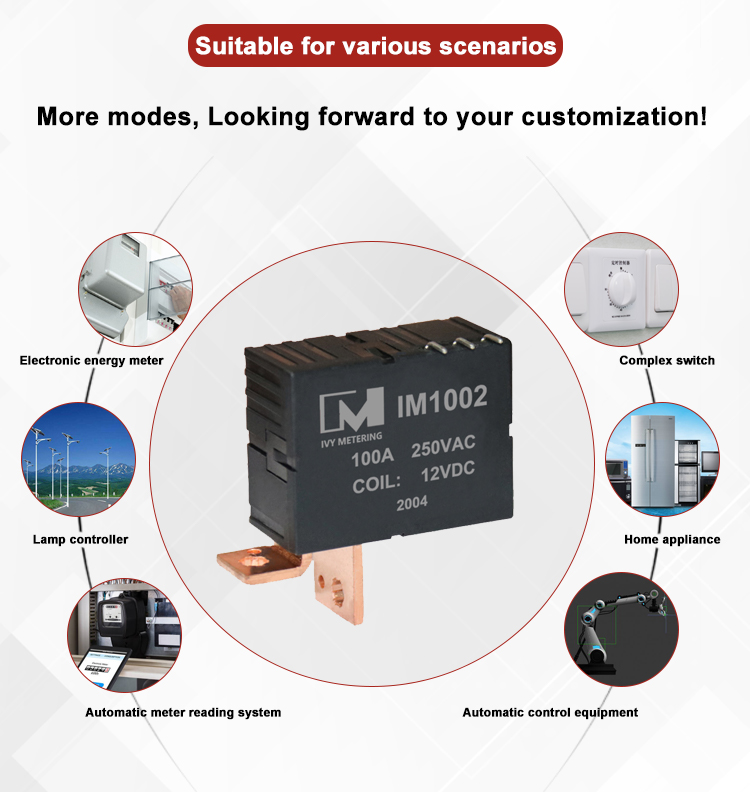 Product Parameters
Rated Load: 100A 250VAC
Contact Form: 1A/B
Coil Voltage: 6~48VDC
Rated Coil Consumption: 1.5 / 3W(20ms)
Dielectric Strength: 4kV
Contact Material AgSnO2
Compact Size: 39*30*18.5mm
Max. Switching Voltage: 277VAC
Max. Switching Power: 27700VA
Contact Resistance: <2mΩ
Pick-up Time: 20ms
Release Time: 20ms
Electrical Endurance: 5000 Cycles
Mechanical Endurance: 100000 Cycles
Temp.Rise: ≤55K When Ambient 40℃
Ambient Temperature: -40℃~70℃
Ambient Humidity: 45%~90%RH