IM1002 Customized Remote Control Switch 100A 250VAC Dual Coil 12V Smart Meter Magnetic Latching Relay
Prouduct Details
IVY specializes in the development and manufacturing of high-quality latching relays. We offer a line of latching relays spanning from 32A to 200A for single-phase Two-phase and three-phase switching purposes. our relays meet the industry's highest performance standards and offer the best value in the energy management market. In particular, we have developed an innovative relay switch-motor latching relay. IVY latching relays are highly customisable with many variants of terminal arrangements, which can be made to suit customer's needs. Shunts and current transformers can also be included to special order.
IM1002 is a small industrial bistable latching power relay with continuous current up to 100A, and switching 100A 250VAC. Single and Double coil latching. Used in utility meters and for solar, EV charger and energy conservation.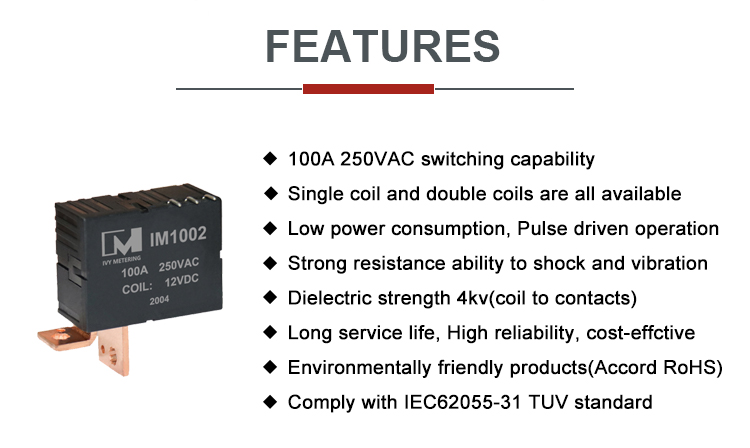 Application Scenarios

1) Smart meters: IC card meters, prepaid meters, single-phase meters, three-phase meters.
2) Reactive power compensation: synchronous switch, composite switch, smart capacitor.
3) Intelligent control: smart home, solar street light control, automation equipment, etc.
Product Parameters
Rated Load: 100A 250VAC

Contact Form: 1A/B

Rated Coil Consumption: 1.5 / 3W(20ms)

Contact Material AgSnO2

Compact Size: 39*30*18.5mm

Max. Switching Voltage: 277VAC

Max. Switching Power: 27700VA

Contact Resistance: <2mΩ

Pick-up Time: 20ms

Release Time: 20ms

Electrical Endurance: 5000 Cycles

Mechanical Endurance: 100000 Cycles

Temp.Rise: ≤55K When Ambient 40℃

Ambient Temperature: -40℃~70℃

Ambient Humidity: 45%~90%RH