EM613005 Low Voltage 8-48V Din Solar Battery Monitor Smart Shunt Modbus DC Din Rail Energy Meter
Product Details

1.There are 4 models of DC meter: EM613001/EM613002/EM619001/EM613005. It's worth to highlight that RS485 & NB-IOT communication are optional.
2.EM series DC energy meters are designed for measuring and monitoring in DC systems.
3.The din rail DC energy meters can measure of important DC parameters: Voltage, current, power and energy etc. It also support bi-directional measurement. All data in the meter are accessible via RS485 using Modbus RTU/DTL645.
4.The meter working with DC power supply. Input voltage range up to 1000VDC, and current inputs are flexible with DC shunt.
5.The multi-tariff version has a RTC equipped inside, it can provides multi-tariff information and monthly records.
6.EM series dc meter is suitable for DC energy metering of EV charging piles, battery, telecom tower, solar panels and other devices with DC signals. It is also suitable for DC power distribution electricity system of mining industry, civil buildings, building automation system base and so on.
EM Series DC Meter Advantages
Din Rail Mount; Shunt Sampling; Class 1
Voltage Input DC8~48V; Current 10-240A
RS485 Communication with DLT645/Modbus Protocol
Over-current/Over-voltage/Over-load Alarm
Bi-directional Measurement; Net metering for Renewable systems
LCD Backlight; Multi-tariffs(RTC), Monthly Records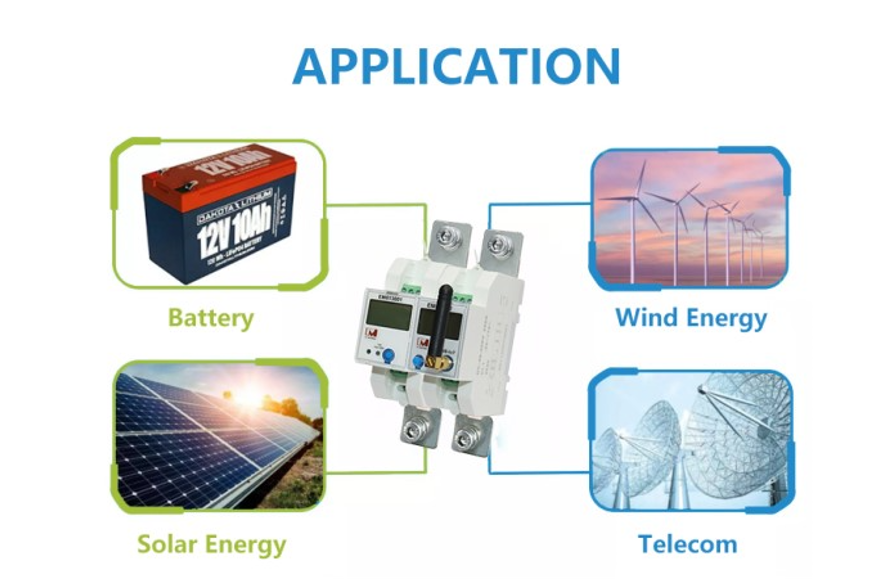 Product Parameters
Reference voltage: DC8V-48V

Current: 10A-240A

Operation temp.: -20℃~+70℃

Accuracy class: Cl.1.0

Relative humidity: 95%

Communication: RS485 Communication

Communication protocol: DTL645/Modbus

Impulse constant: 1000 imp/kWh

LCD display: LCD 6+2

Power consumption: ≤0.4W,≤8VA



Features
Rate: Four Tariffs with 8 Time Slots

Alarm function: over-voltage, over-current alarm, threshold can be set.

Event record: The device itself stores the last 20 records when overvoltage, undervoltage, and overcurrent occur

Display: LCD displays DC power, current, voltage, tariff power, data wheel display (time interval 5S), you can also turn pages by pressing an external button.

Backlight: Press the page turning button to light up the backlight, which is convenient for viewing data when the light is insufficient

Communication: Supports RS485 communication with protocol DTL645, which allows parameters setting and read or write power data
Application
New Energy Field- PV, Solar Power/EV charger

Telecommunication Based Station

Energy Management /Battery Storage System

Power Generation System