MD0630T01A IEC62752 EV 6mA DC Sensor Residual Current Monitoring RCD Type B for Mode 2 IC-CPD
Product Introduction

MD0630T01A is a high sensititivity RCMU/RCD protection leakage current sensor which has the characteristics of accurate measurement, small size and integration. The leakage sensor can be set separately for AC and DC leakage. An alarm signal is generated when the set current is reached. The leakage sensor has a digital output function, which can directly read the current value of DC and AC. Which can also be called residual current sensor, residual current monitor (RCM), residual current device (RCD), differential current sensor, earth leakage current detector and fault current sensor etc. "Residual current" refers to the leakage current from an electrical system to the ground, often as a result of a "ground fault". Leakage currents can flow through a human body to ground resulting in a risk of electric shock, injury or burns, and can cause overheating and risk of fire. It is intended to provide protection against electric shock and leakage current detection for AC & DC Application.
MD0630T01A is a small device installed inside the charging station equipment to detect whether there is a DC fault in the car battery. If a fault is detected, it outputs an alarm signal and the auxiliary contactor/relay cuts off the power. This protects your equipment from incoming DC surges.
In electric vehicle charging if the DC fault current is greater than 6mA, it could change the characteristics of a Type A RCD due to its core saturation, resulting in the type A failing to trip and a lack of detection of the DC fault. In this instance, the risk of electric shock is increased, and safety is compromised.
Use type B RCD, which is suitable for AC and DC fault protection.

Use type A RCD and a DC 6mA sensor to provide a means of disconnection of supply in case of DC fault.
IVY type B RCD(type A + 6mA dc) enables compliance with the updated BS7671:2018 and reduces the cost of developing electric vehicle charging solutions, which is more cost-effective than using a Type B RCCB.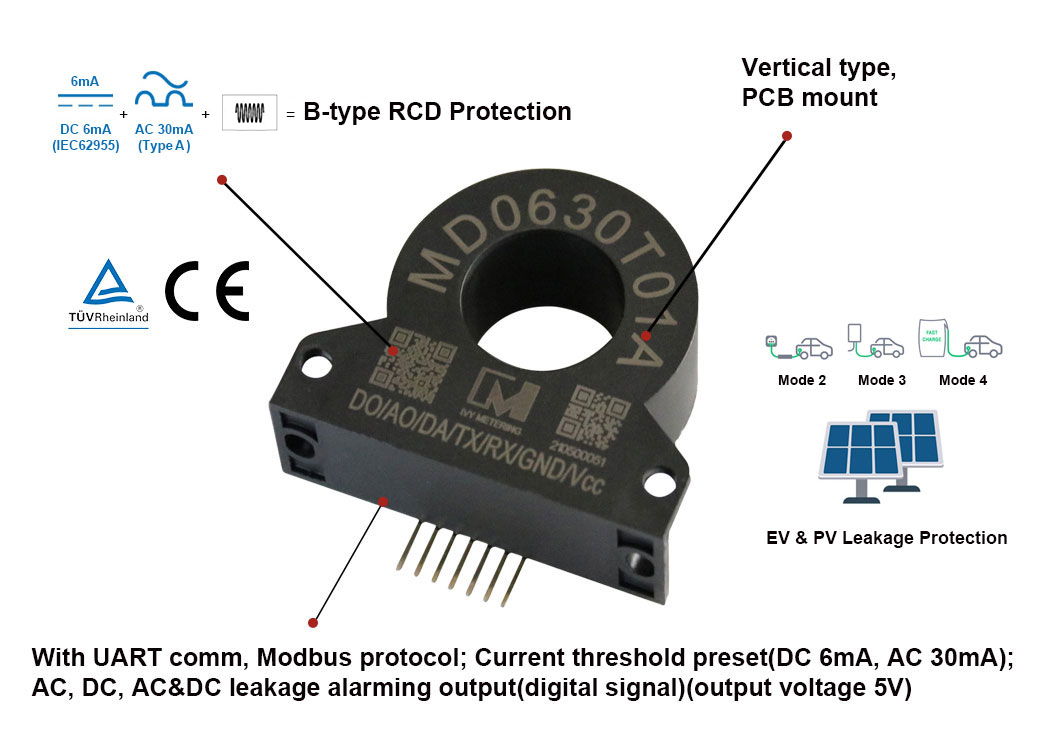 Product Features

1. Fixed 6mA DC and 30mA AC trip levels; "Fault" output – alarm signal
2. Small Size, Integration Design, Vertical(Pin Type)/Horizontal(Cable Type) Mounting Optional
3. Integrated self-monitoring and test functions, Digital Output.
4. AC DC Leakage Data Readable; Alarm Value Programmable; 3 Way Alarm Outputs
5. UART Comm, with Modbus Protocol; Standard: EN 61000-6-3:2007+A1 ,EN IEC 61000-6-1:2019
6. Professional Certification: TUV(IEC 62955/IEC 62752/IEC 61851-1); UL 2231-1/UL 2231-2; CE-EMC
7. RCD leakage protection/Charging Current protection on all phases
Product Parameters

Wide voltage input: 12V±20%
Measuring current range: DC current 2-15mA; AC current 3-100mA (default threshold: DC 6mA, AC 30mA)
Accuracy : at 25℃, DC±0,2mA, AC±0.3mA
Can read current value and set alarm current value
Three outputs: DC alarm, AC alarm, AC/DC alarm
Working environment temperature: -25℃~+80℃
Plastic case, small SIP package
EV Charging Application
Charging mode 2
IC-CPD in charging cables for electric vehicles (EV) and plug-in hybrid electric vehicles (PHEV)
Charging mode 3
Wallboxes for charging EV and PHEV
Charging piles for charging EV and PHEV
Charging mode 4
DC EV Charger