IM-NE801 UL/IEC61810-1 3mm Contact Gap 24VDC 30A Two-pole PCB Power Relay for PV Inverter
Product Details
IM-NE801 is an Two-pole PCB power relay for Solar PV and AC charging pile. Considering the better demand for cost performance, the dual-circuit is on and off at this time. The functional advantages of IM-NE801A are reflected. From the perspective of contact withstand voltage, IM-NE801A has more advantages. IM-NE801A may be a better choice for AC slow charging piles. It is not an exaggeration to say that it is specially designed for charging piles. Its appearance also makes the use of relays in new energy vehicle charger more efficient, rational and safe!
Compared with other power relays on the market, the main advantages of lie in 3mm conntact gap:
Its contact distance can be up to 3mm, and the contact spacing of the general relay is about 0.8mm or 1.5mm.In some ways this feature made contact between medium pressure can improve a lot, the higher the withstand voltage value, and also solve the problem of contact resistance increase rapidly, etc, under non-operation status it can avoid wrong operation or damage caused by external factors. which improves the tensile arc resistance of the contact and prolongs the service life of the relay.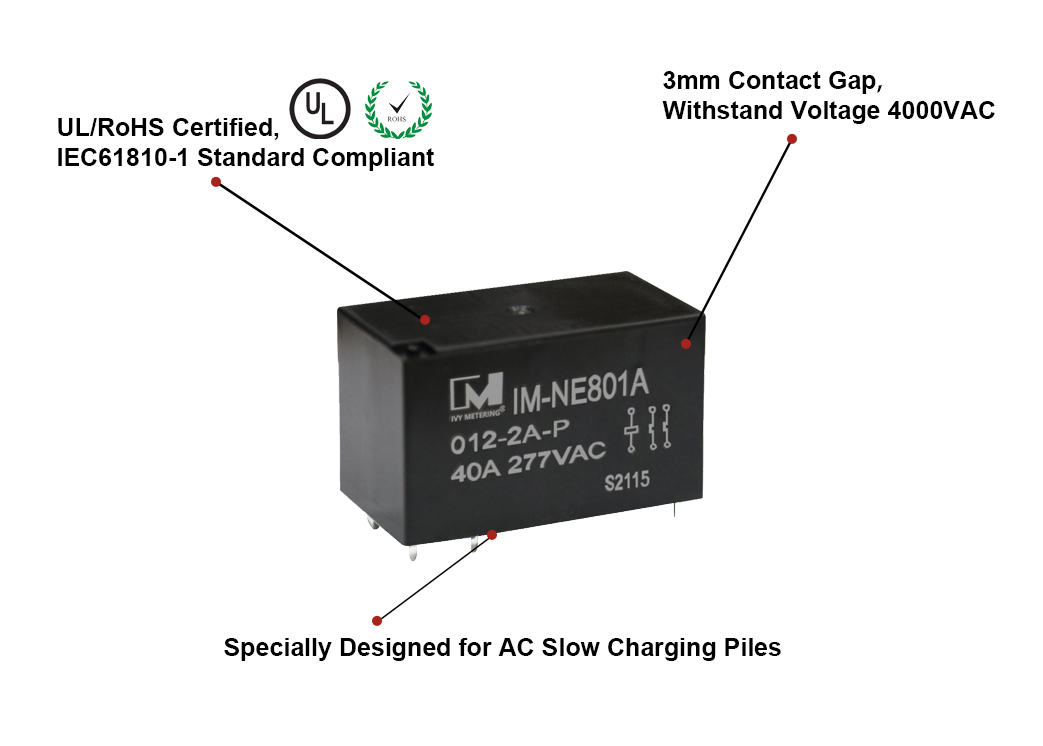 2.Technical Parameters:
Dimension(mm)
49×30×26.5
Weight ( g )
≈70g
Contact Arrangement
2A/2B
Contact Material
AgSnO2
Environment Temperature
Operation:-40℃~85℃ ; Storage:-40℃~125℃
Continuous Current
40A
Max. Switching Voltage
277VAC
Initial Contact Resistance
10mΩ (at 20A)
Insulation Resistance
100MΩ, at 500VDC, 50%RH
Mechanical Endurance
5×105 ops
Electrical Endurance
6×103 ops
Power Consumption
1.8W/3.0W
Rated Voltage
12VDC/24VDC
Pick-up Time
30ms. typical
Release Time
10ms. typical
Dielectric withstanding voltage
Across Open Contact
801:3000VAC 1min ;801A: 4000VAC 1min
Coil to Contact
4000VAC 1min
Shock Resistance
20g, 11ms
Dielectric Strength
500Vrms, 1 min
Application for PV