MD0630T41A-1 IEC62752 Mode 2 AC 30mA DC 6mA Leakage Detection Residual Current Sensor for EV Charging
Product Details
Any electrical leak can be dangerous for your staff and production site. By using IVY Residual Current Device (RCD) you can protect both staff and equipment. Thanks to its zero-flux technology expertise, IVY developed a range of highly flexible Residual Current Monitor of Type B/B+ for measuring DC and AC residual currents up to 100kHz, with digital signal output(AC 30mA/DC 6mA).
MD0630T41A-1 sensor is a new, compact, horizontal type rcd current sensor with pins designed for use in e-mobility infrastructure and AC charging station designs to monitor leakage currents in mode two/three/four electric vehicle charging.
MD0630T41A-1 Type A, B and B+ RCD, dedicated to detect to DC, AC and DC+AC leakage current measurement. The sensor can issues an alarm signal when the DC component of the residual current reaches a preset value.
MD0630T41A-1 is an automotive grade leakage current sensor also called residual current monitoring (RCM), residual current detection (RCD), differential current sensor, leakage current detector and fault current sensor. It has the characteristics of accurate measurement, small size and integration. The RCD sensor can be set separately for AC and DC leakage and has a digital output function. It can detect sinusoidal AC, pulsating DC, composite of multi-frequency as well as smooth DC residual currents. Widely used for electro-medical instruments, ventilation systems, inverters, UPS, Electric vehicle charging stations, lifts, escalators, welding equipment, smart home, industrial machines, elevators, IOT, photovoltaic systems. In addition, our delivery time is also guaranteed.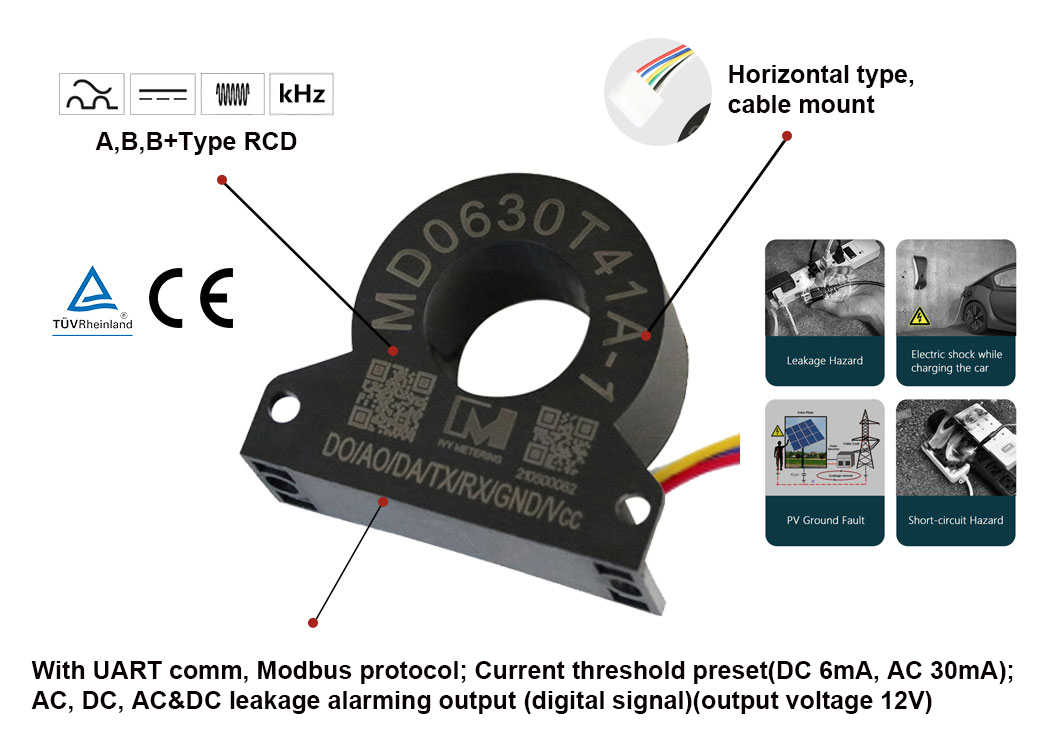 Product Features

1. Complies with the DC and AC protection requirements of IEC62752 or IEC62955
2. Small Size, Integration Design, Vertical(Pin, Pin&Cable Type)/Horizontal(Cable Type) Mounting Optional
3. Integrated self-monitoring and test functions, Digital Output, Residual Fault Leakage Current Protection
4. AC DC Leakage Data Readable; Alarm Value Programmable; 3 Way Alarm Outputs
5. URAT Comm, with Modbus Protocol; Standard: EN 61000-6-3:2007+A1 ,EN IEC 61000-6-1:2019
6. Professional Certification: TUV(IEC 62955/IEC 62752/IEC 61851-1); UL 2231-1/UL 2231-2; IS17017; CE-EMC
7. Suitable for EV charger (Load current up to 200A (1-phase) or 150A (3-phase))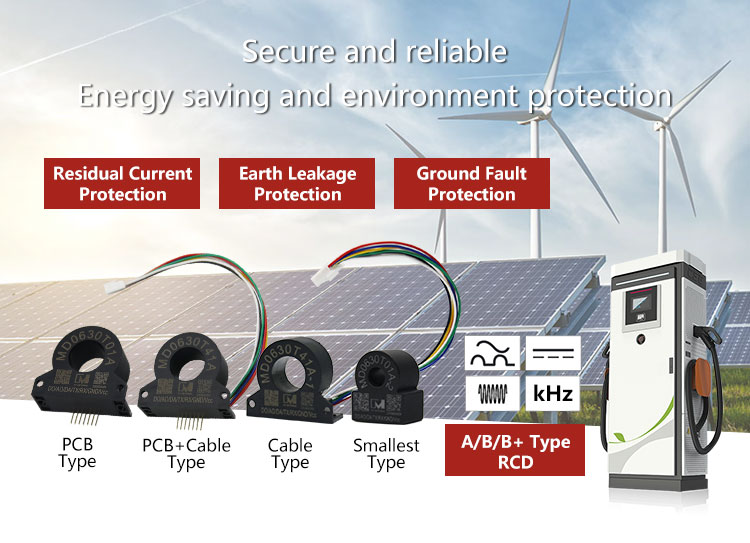 Product Parameters

Wide voltage input: 12V±20%

Measuring current range: DC current 2-15mA; AC current 3-100mA (default threshold: DC 6mA, AC 30mA)

Accuracy class: at 25℃, DC±0,2mA, AC±0.3mA

Working environment temperature: -25℃~+80℃

Installation: Cable Type

Plastic casing: SIP encapsulation
Product Application

1.Being able to detect smooth DC residual currents which can occur in EV charger stations and photovoltaic systems, IVY RCD guarantees the safety of the people and of the installation
2.can guarantee dependable protection for field technicians and installed machinery by detecting high frequency residual current and protecting against smooth DC residual currents in the event of a fault.
3.can prevent damage to installed equipment and avoid operational impacts in situations where service interruption and out of order can cause discomfort.
4.In installation where we cannot necessarily withstand any sort of interruption, IVY RCD can minimize outages, equipment damage, failures and interruption of any critical operation
"Residual current" refers to the leakage current from an electrical system to the ground, often as a result of a "ground fault". Leakage currents can flow through a human body to ground resulting in a risk of electric shock, injury or burns, and can cause overheating and risk of fire. MD0630T41A-1 is a RCD sensor which monitors the residual current in an electrical installation and issues an alarm signal when the residual current exceeds the operating value of the device. It can detect sinusoidal AC, pulsating DC, composite of multi-frequency as well as smooth DC residual currents. It is used to reduce the risk of electric shock, which can cause the heart to stop or cause burns. IVY RCD suitable for many industries including electric vehicle charger, photovoltaic systems, industrial device, medical device, new energy field, DC screen, fire distribution cabinet, IOT field etc.