IM901 63A 90A 230VAC High Power AC Latching Relay PV Relay for Solar Panel
Prouduct Details
IM901 is 90A high power magnetic latching relay, this bistable latching relay can also be used as EV and PV relay.
Switching Capacity:90A, 250VAC
Single/Dual Coil Optional
Dimension:38*30*16.5mm
4kV dielectric strength between coil and contacts
Custom assemblies available with flex wire and/or copper straps, and/or with integrated shunt
RoHS compliant materials and process
IEC62055-31 UC2/UC3 Certified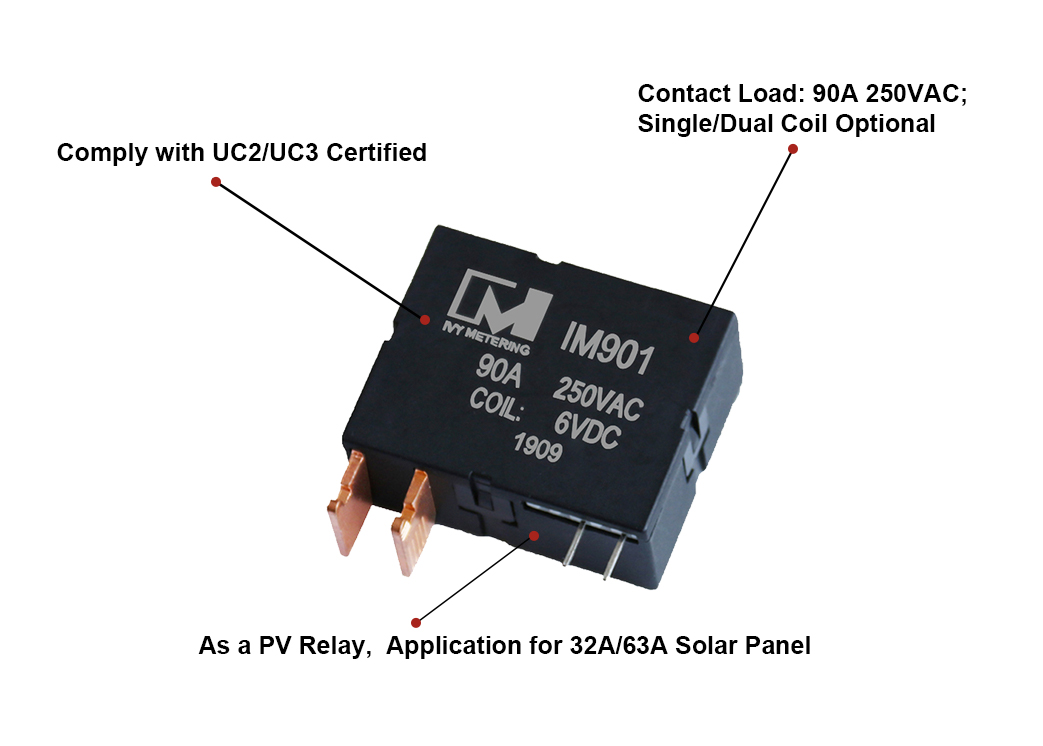 Product Parameters
Contact Form: 1A/B

Contact Material: AgSnO2

Max. Switching Voltage: 250VAC

Max. Switching Current: 90A

Max. Switching Power: 22500VA

Contact Resistance: <2mΩ

Pick-up Time: 20ms

Release Time: 20ms

Electrical Endurance: 10000 Cycles

Mechanical Endurance: 100000 Cycles

Temp.Rise: ≤55K When Ambient 40℃
Special Application Scenario---Solar photovoltaic
Solar photovoltaic power generation is an important part of new energy and renewable energy. It is considered to be the most promising new energy technology in the world. All countries have invested huge sums of money to compete for research and development, and actively promote the process of industrialization, and vigorously develop Market application. This has also brought huge market demand for some of the necessary components such as solar relays, one of the related pv components of the relay---magnetic latching relay IM-901, has a load current of 90A, and the open and close states of its contacts are usually maintained by the magnetic force generated by the permanent magnet. When the contact of the relay needs to open or close state, it only needs to use positive (negative) DC pulse voltage to excise the coil, and the relay completes the characteristics of open and close state transition in an instant, so that it has automatic on-off, remote control, monitoring and other functions, which makes it very important in PV.