IM1201T Customized 120A 250VAC 3PST NO 12VDC Industrial Control 3 Phase Magnetic Latch Relay with CT
Prouduct Details
IVY is specialized in the research, development, and manufacturing of high powered, high quality, highly reliable latching relays. We offer latching relays from 32A to 200A for both single, dual and three phase switching purposes. Our relays are designed to meet the industry's highest performance standard and it offers the best value in the Metering Market. We develop the product using innovative ways to save money and power for both consumers and producers of electricity. We are adhered to provide the best product with the lowest failure rate in the industry.
IM1201T is a three-phase latching relay. It has stable performance and long service life. The three phase relay switch has the following characteristics:
Three Poles Contact(Normally Open, Normally Close), Three Way Control;
Maximum Switching Current: 120A, Strong Load Capacity;
CT Assembled, Low Consumption, Pulse Driving, Environment-friendly.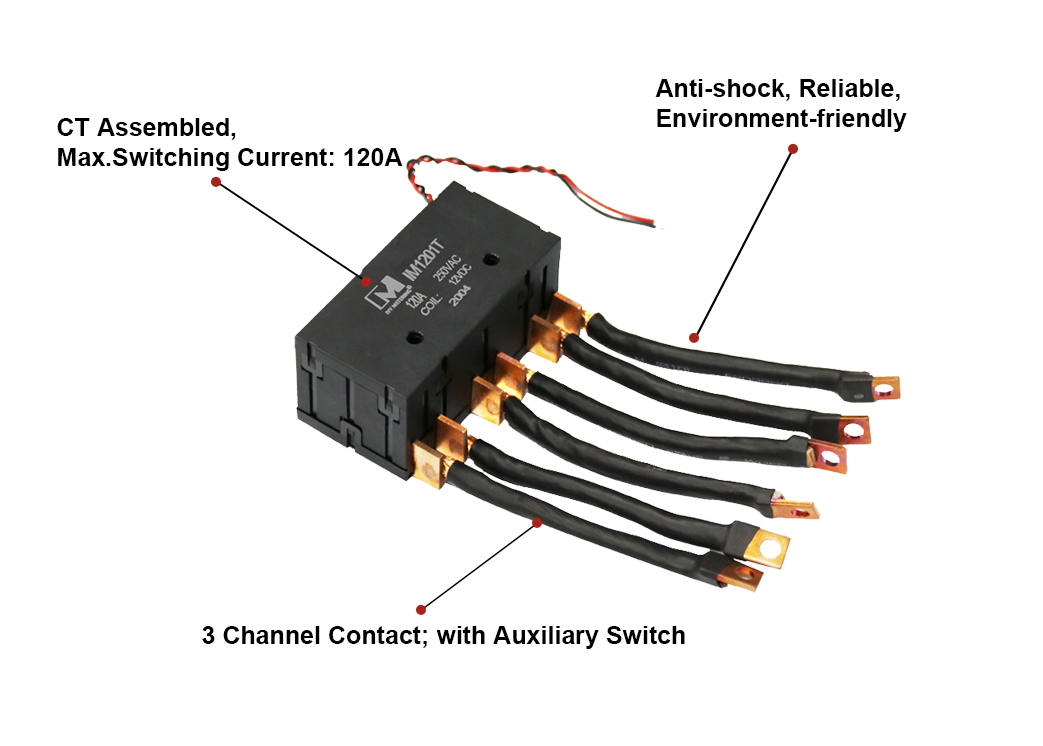 Product Parameters
Rated Load 120A 250VAC

Contact Form 3A/3B

Rated Coil Consumption: 3.0/6.0W(30ms)

Dielectric Strength: 4kV

Compact Size:78.6*40.3*37.8mm

Contact Material: AgSnO2

Max. Switching Power: 30000VA

Contact Resistance; <2.0mΩ

Pick-up Time; 30ms

Release Time: 30ms

Electrical Endurance; 10000 Cycles

Mechanical Endurance; 100000 Cycles

Temp.Rise; ≦55k

Ambient Temperature: -40℃~70℃

Ambient Humidity; 5%~98%RH