MD0630T01A EVSE Protection 30mA AC 6mA DC RCD Sensor Residual Current Monitor for 3phase 32A AC Charger
Product Introduction

IVY MD0630T01A is an automotive grade high sensitivity leakage current sensor also called residual current monitoring (RCM), residual current detection (RCD), differential current sensor, earth leakage detector, differential current sensor and fault current sensor. Dedicated to detecting to type AC/A/F/B leakage currents measurement. It is specifically developed for EV-charging providing all-current sensitivity. The sensor can issues an alarm signal in case of hazardous electrical faults (DC and AC). It has the characteristics of accurate measurement, small size and integration. The RCD sensor can be set separately for AC and DC leakage and has a digital output function. The MD0630T01A can monitor DC (6mA) and AC (30mA) residual currents, it is connected in series with the AC supply to an EV and will provide a signal output if a DC current ≥ 6mA DC flows in the circuit.
The higher-level safety equipment (e.g., residual current monitor) is protected against potential DC residual currents. This small RCD current sensor is practical and more cost effective for integrators to use and install into charging solutions. Primarily intended for use in Mode 2 Electric Vehicle In-Cable Control and Protection Devices (IC-CPDs) and Mode 3 Wallbox Charger, to output an alarm signal under AC or DC residual currents fault condition. The MD0630T01A is a compact solution designed to be mounted directly onto a PCB. Allows the protection of electric vehicle charging points. Besides, it widely used for photovoltaic systems, medical instruments, inverters, UPS, smart home, industrial machines, IOT etc. In addition, our delivery time is also guaranteed.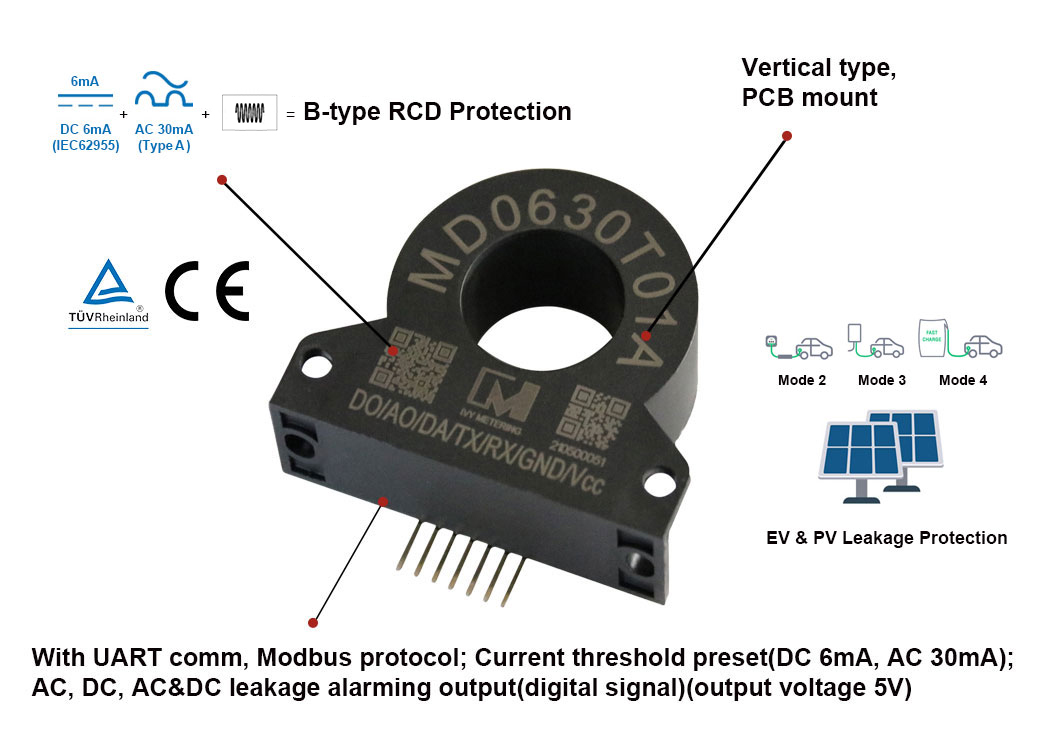 Product Features

1. Complies with the DC and AC Protection Requirements of IEC62752 or IEC62955
2. Small Volume and Footprint for Integration into Compact IC-CPD
3. Protects Against Hazardous Situations with Fault currents, Preserving RCCB type A from Saturation
4. AC DC Leakage Data Readable; Alarm Value Programmable; 3 Way Alarm Outputs; Digital Output
5. UART Comm, with Modbus Protocol; Standard: EN 61000-6-3:2007+A1, EN IEC 61000-6-1:2019
6. Certification: TUV(IEC62955/IEC62752/IEC61851-1/IEC62196); UL2231-1/UL2231-2; IS17017; CE-EMC
7. Electrical Safety at Low Cost (Compared to Type B RCCB)
8. Robust Mechanical and Electrical Design for Harsh Environmental Conditions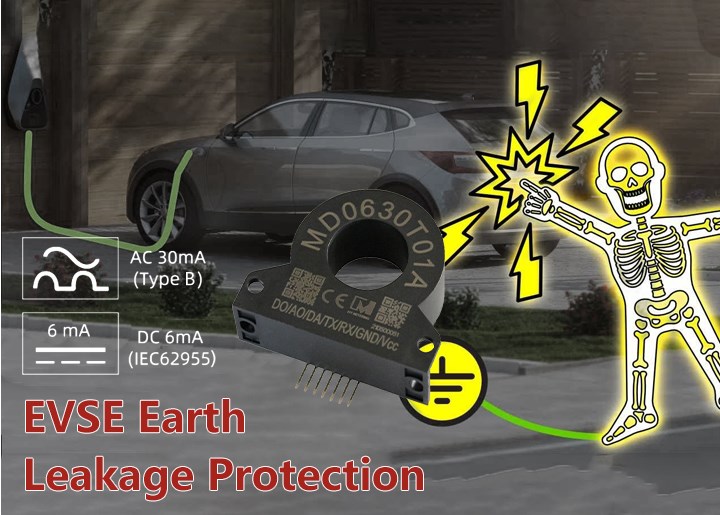 Product Parameters
Wide voltage input: 12V±20%

Measuring current range: DC current 2-15mA; AC current 3-100mA (default threshold: DC 6mA, AC 30mA)

Accuracy : at 25℃, DC±0,2mA, AC±0.3mA

Can read current value and set alarm current value

Three outputs: DC alarm, AC alarm, AC/DC alarm

Working environment temperature: -25℃~+80℃

Plastic case, small SIP package
Why a DC 6mA or a Type A/B RCD been required in IC-CPD and AC Charger/Wall-Box application?
The existing type A RCD can only in the detection of pulsating dc leakage from 6 mA dc current interference, and can't detect dc leakage and disconnect protection, when DC leakage is more than 6 mA, due to the DC residual current will cause core magnetization in advance, make tripping value deviation, lead to type A RCD can't normal movement. Therefore, type B RCD or A+6mA protection must be used! IVY offers MD0630T01A for monitoring and/or providing shock protection and fault protection on AC and DC installations and for EV charging applications.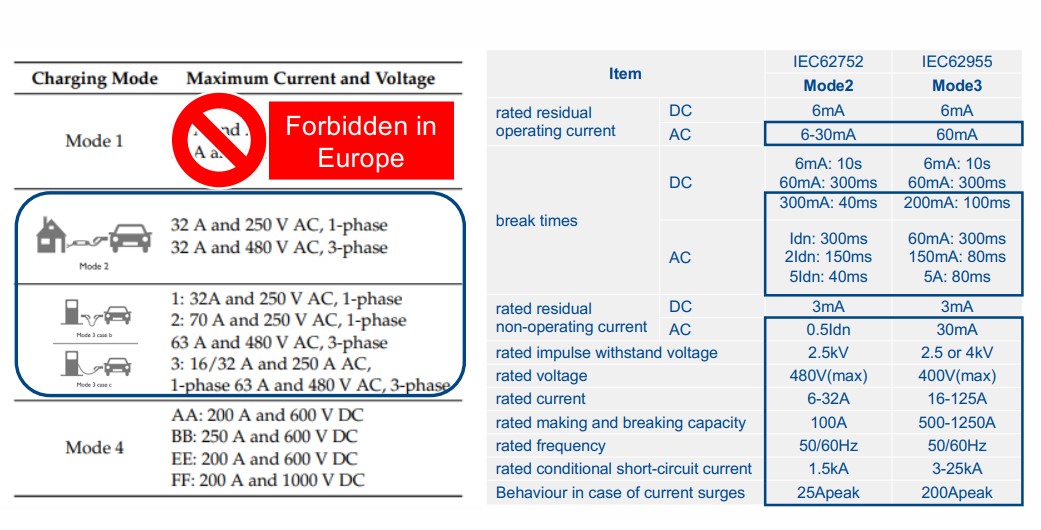 EV Charger Application
Leakage current measurement for OBC in-cable (mode 2) and for wall boxes (mode 3) contact and protection device

Automotive On Board Chargers (OBC) 1-3 phases 3.3 kW to 22 kW

V2X Vehicle to Everything (V2G Vehicle to Grid,V2L Vehicle to Load)

Insulated or None insulated On Board Charger

Wall box charger