800BC07M China Cheap Ratio 200:1 7digits Digital Electric Mechanical Counter for Energy Meter
1.Product Details
800 series of electric meter counter is a cheap, low-cost mechanical counter.
Plastic and metal types can be optional. Its main features as follow:
1)Display digits: 6-digit or 7-digit black wheel;
2)0-9 character display; Number ratio: 200:1;
3)Long service life, Driving voltage is generally 3.0-5.5V, mainly designed for Russia market.


Beside They are widely used for:
1), Multi-funcational energy meter
2), Prepayment energy meter
3), Reactive energy meter
4), Watt-hour meter
5), Multi-rate watt-hour meters
6), Maximum demand energy meter.
7), Standard electric energy meter
2. Main Specifications and Technical Parameters

Display digits: 7-digit black character wheel. The character displays 0-9.

Number ratio: 200 :1

When the voltage is 5V±0.3V, the maximum frequency is 10Hz; the minimum pulse width is 50ms

Life: ≥2×107 number of driving pulses

DC impedance (20℃): 550Ω±50Ω

With character wheel protection cover

The total length of the exposed lead wire is 125±5mm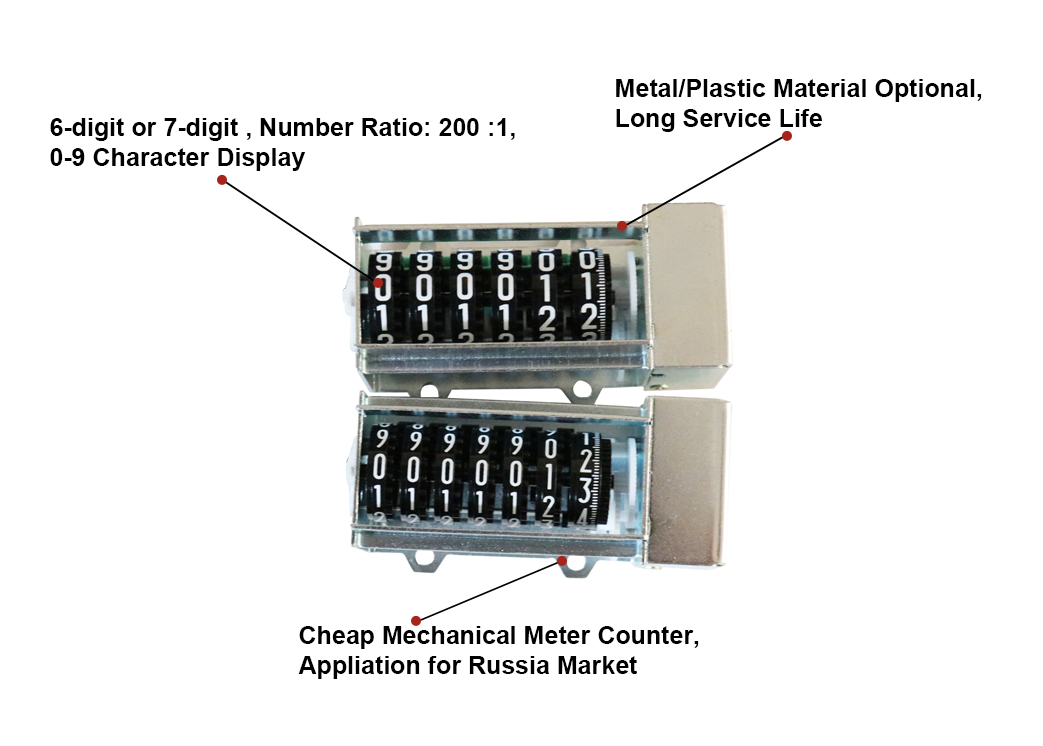 3. Technical Requirements
Comply with JB/T10666-2006 "Pulse Counter for Electric Energy Meter": shock and vibration resistance performance meet GB/T2423.5-1995, GB/T2423.10-1995 related requirements.