IM901T UC3 Compact 90A 12VDC 3 Phase Magnetic Latching Electromagnetic Relay for Energy Meter
Prouduct Details
IM901T is a three-phase latching relay designed for 3 phase smart meter. As a 90a 3 phase power latch relay, it has integrated design and long service life. This 3 phase magnetic latching relay have got RoHs/CE/IEC certificate, Energy-saving and pollution-free, there is a TUV certificate that meets the built-in relay of the electric meter. Generally speaking, a three-phase electric meter needs to be equipped with 3 single-phase relays, IM901T Relay has three sets of contacts and can meet the requirements, so it is cost-efficiency. Compared with other latching relays, the high power latching relay switch has the following characteristics: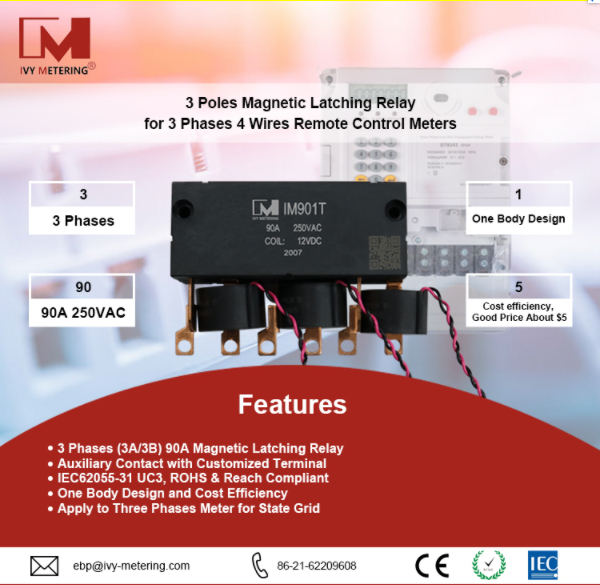 3 Phase (3A/3B);90A 250VAC Latching Relay;IEC/CE/UC3/ROHS Compliant
with Auxiliary Contact;Customized CT/Shunt/Terminal
Integrated Design and Cost Efficiency; Application for 3 Phase Smart Meter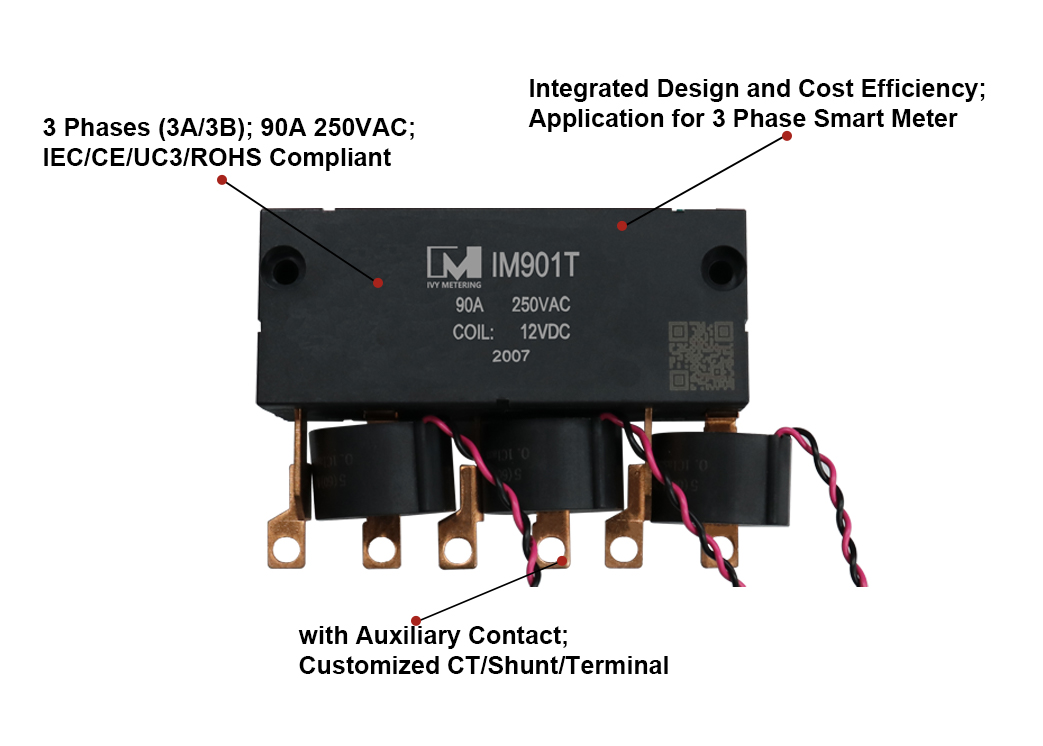 Product Parameters
Rated Load: 90A 250VAC
Contact Form: 3A/B
Contact Material: AgSnO2
Max. Switching Power: 22500VA
Contact Resistance: <2mΩ
Pick-up Time: 20ms
Release Time: 20ms
Electrical Endurance: 10000 Cycles
Mechanical Endurance: 100000 Cycles
Insulation Resistance: 1000MΩ(DC 500V)
Dielectric Strength:
Coil to Contact: 4000VAC,50/60Hz,1Min.
Across Open Contacts: 2000VAC,50/60Hz,1Min.
Ambient Temperature: -40℃~70℃
Ambient Humidity: 45%~90%RH
Vibration: 1.5mm(DA),10 ~ 55Hz
Shock Resistance:
Functional: 10G(100m/s2)
Destructive: 100G(1000m/s2)
Surge Immunity: 2200A/10ms