MD0630T41A-1 IEC62955 Compact 6mA DC Leakage Sensor Residual Current Transformer for Smart Charger
Product Details
MD0630T41A-1 is a Type B RCD device(residual/leakage current sensor), It has the characteristics of high sensitivity, correct measurement, small size and compact/integration design. The residual current device can be set separately for AC and DC leakage. When leakage current is detected, an alarm signal is generated, and the switch control signal is output at the same time. The RCM module is connected in series with the AC supply to an EV and will provide a signal output if a DC current ≥ 6mA DC flows in the circuit. It is an ideal protection device, for the detection of different leakage currents in applications of DC screen, Fire distribution cabinet, PV inverters, medical equipment, UPS devices, EV charging facilities etc.
The Residual Current Monitor (RCM) is intended for the detection of DC and/or AC residual currents in AC or DC installations. Protection against shock and fire hazards during EV charging requires detection of AC and DC residual fault currents. This can be achieved by the use of MD series Type B residual current monitors. They are the relevant IEC product standards protective devices for use in Mode 2, Mode 3 and Mode 4 EV charging. Residual current detection options for IEC based requirements are 30mA AC or 6mA DC, It will protect against DC (6mA) and AC (30mA) residual currents, and will signal to the Smart EVSE if a fault occurs.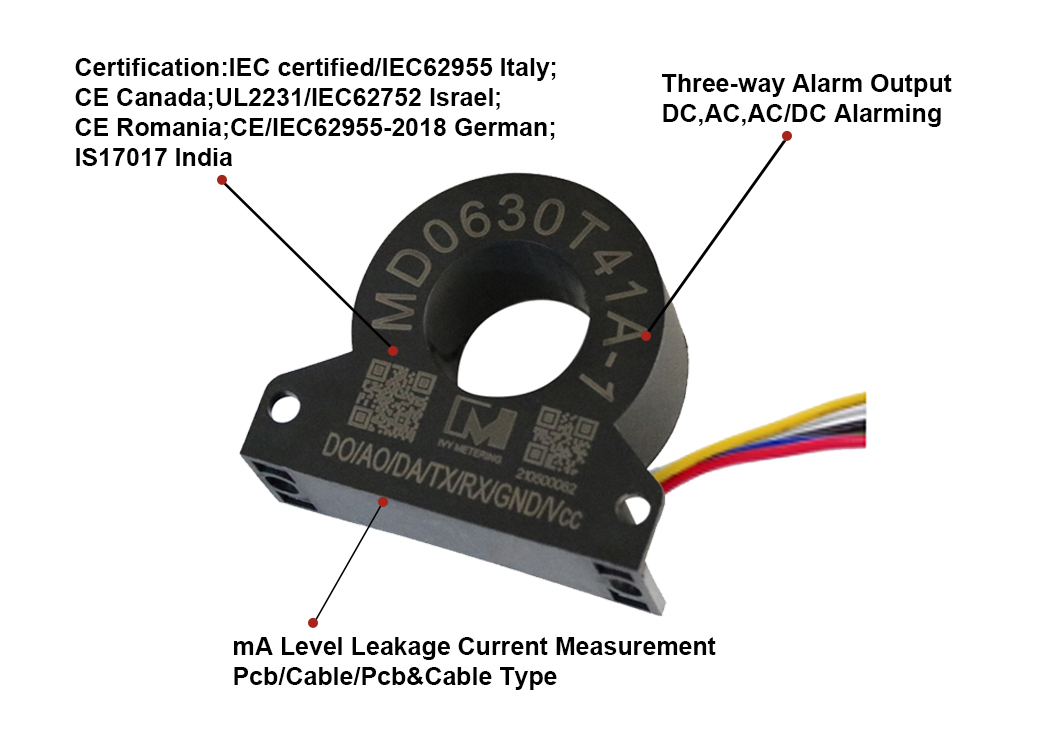 Product Feature
1. DC 2-15mA, AC 3-100mA, Alarm Output: DC 6mA AC 30mA; Output Switching Control Signal
2. Small Volume, Integration Design, Vertical(Pin, Pin&Cable Type)/Horizontal(Cable Type) Mounting Optional
3. Integrated self-monitoring and test functions, Digital Output, Residual Fault Leakage Current Protection
4. AC DC Leakage Data Readable; Alarm Value Programmable; 3 Way Alarm Outputs
5. URAT Comm. with Modbus Protocol; Standard: EN 61000-6-3:2007+A1 ,EN IEC 61000-6-1:2019
6. Professional Certification IEC 62955/IEC 62752/IEC 61851-1; UL 2231-1/UL 2231-2; TUV; CE-EMC Certified
7. Used in EV Charger Project (mode2/mode3/mode4 protection)
Product Parameters
Wide voltage input: 12V±20%
Measuring current range: DC current 2-15mA; AC current 3-100mA (default threshold: DC 6mA, AC 30mA)
Accuracy class: at 25℃, DC±0,2mA, AC±0.3mA
Working environment temperature: -25℃~+80℃
Installation: Cable Type
Plastic casing: SIP encapsulation
Typical Application
Charging mode 2
IC-CPD in charging cables for electric vehicles (EV) and plug-in hybrid electric vehicles (PHEV)
Charging mode 3
Wallboxes for charging EV and PHEV
Charging piles for charging EV and PHEV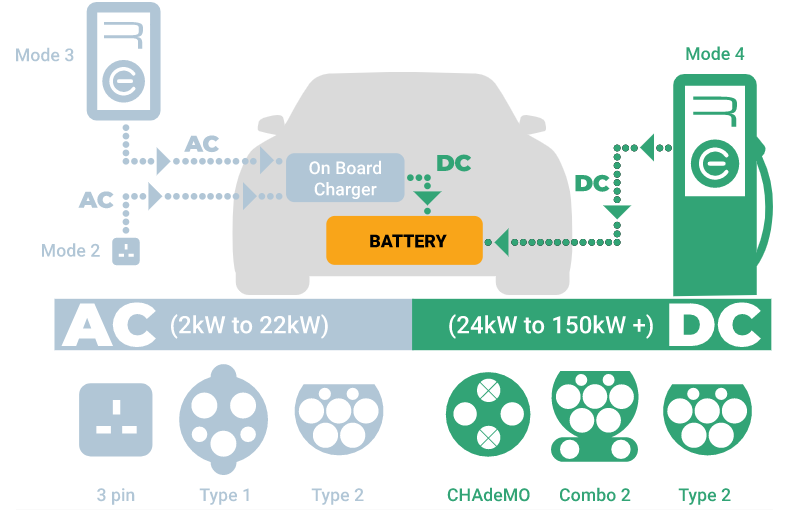 Remarks and Notice
Generally, AC/DC-sensitive differential current sensors can be used where direct current and alternating current circuits are directly connected and therefore AC/DC leakage currents can occur.
Typically, type A residual current circuit-breakers (RCCBs) are the sole type installed in private households, unable to identify and deactivate DC fault currents. Users seeking to charge an electric vehicle (EV) from a home power supply would therefore require a costly type B RCCB to guarantee safety in the presence of DC fault currents.
By using a DI sensor integrated into an IC-CPD or wall box, customers can save themselves the high costs of installing a type B RCCB to provide all-current sensitivity and electrical safety at low cost.
A single DI sensor monitors simultaneously all currents in phases and neutral conductors sensing AC/DC fault currents. As the differential currents to be monitored only occur in the event of electrical faults and are extremely low (mA), maximum measurement precision is critical. In addition, a fast response time is required to maintain safety features and prevent humans from getting injured. Both requirements are excellently covered by the differential current sensor.