IM901 90A 12VDC 24VDC 250VAC Remote on-off Magnetic Switch Bistable Latching Relay
General

Relay is a kind of automatic switching component with isolation function, which is widely used in Remote control, remote measuring, telecom, automatic control, integration of machinery and Electrification, electric and electronic equipments. It's one of the most important controlling Components. Generally, relays have the inductive organ (input part) that can reflect the input value (such as Current, voltage, power, impedance, frequency, temperature, pressure, speed, light etc. ); Have the executive organ (output part) that has the capability of switching the controlled circuit "on" or "off"; Between the input and output parts, there is the medium organ (actuator) that can make Input value coupling-isolation and drive the output part.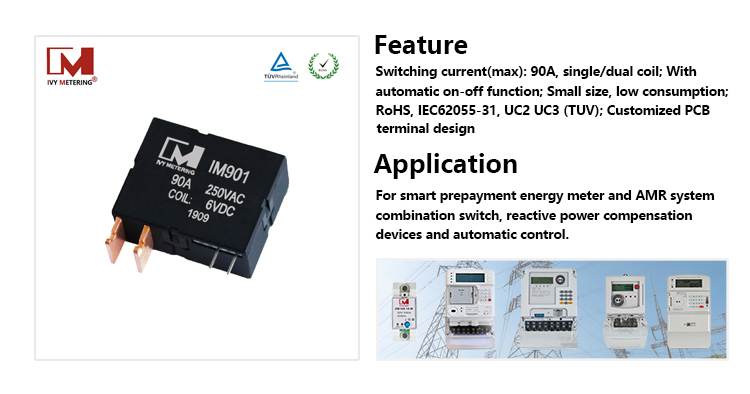 Prouduct Details

IM901 is 90A high power magnetic latching relay, this bistable latching relay are widely used in smart meter/solar system/EV charger.
Custom Assemblies with Integrated Shunts, Flex-wire and Copper Extensions and Brass Terminals
As a miniature type switch breaker also pass UC3 certification
Dielectric Strength of 4kV
RoHS Compliant Materials and Process
This super compact 250vac relay can be widely used in Energy Meter,RCCB, EV Charger, IOT Device etc.
Rated Coil Consumption: 1.5 / 3W(20ms)
Cost Efficiency & Surge Protection
Single Coil Double Coil Optional
Compact Size:38*30*16.5mm
External Shielding Case Available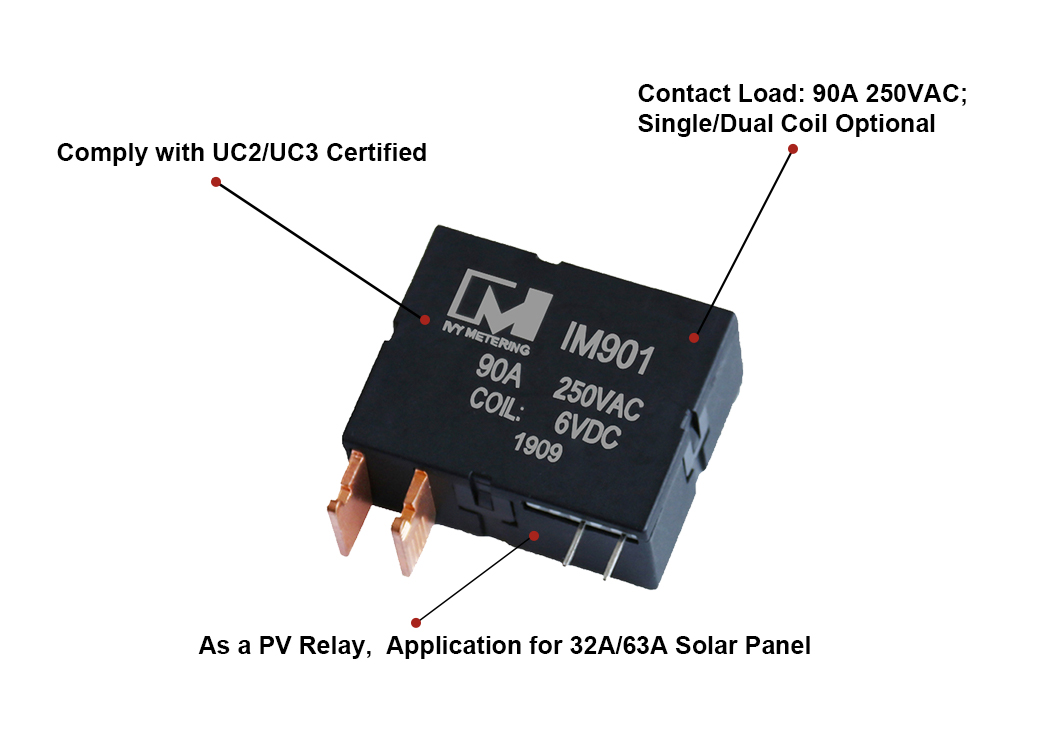 Product Parameters
Contact Form: 1A/B

Contact Material: AgSnO2

Max. Switching Voltage: 250VAC

Max. Switching Current: 90A

Max. Switching Power: 22500VA

Contact Resistance: <2mΩ

Pick-up Time: 20ms

Release Time: 20ms

Electrical Endurance: 10000 Cycles

Mechanical Endurance: 100000 Cycles

Temp.Rise: ≤55K When Ambient 40℃
Application
- Prepayment energy meter
- Smart meter
- Concentrated meter reading system
- Street lamp control system
- Compound switch, Combination switch
- Automatic control device/ system
- AMR system
- Elevator control