D129072 100A Over-current Alarm Split Core CT M-bus AC Current Sensor for Electric Car Charging Station
Product Details
D129072 is a split core (open core) current sensor for EV Charging Pile Station. Its structural design ensure fast speed load and unload under constant power, which is greatly improve the construction efficiency. The contact surface of iron core is machined by mirror surface, ensures that the contact surfaces are more compact and restless. widely used in smart meter, smart grid, monitoring device, EV charger, circuit protection, and machine equipment etc.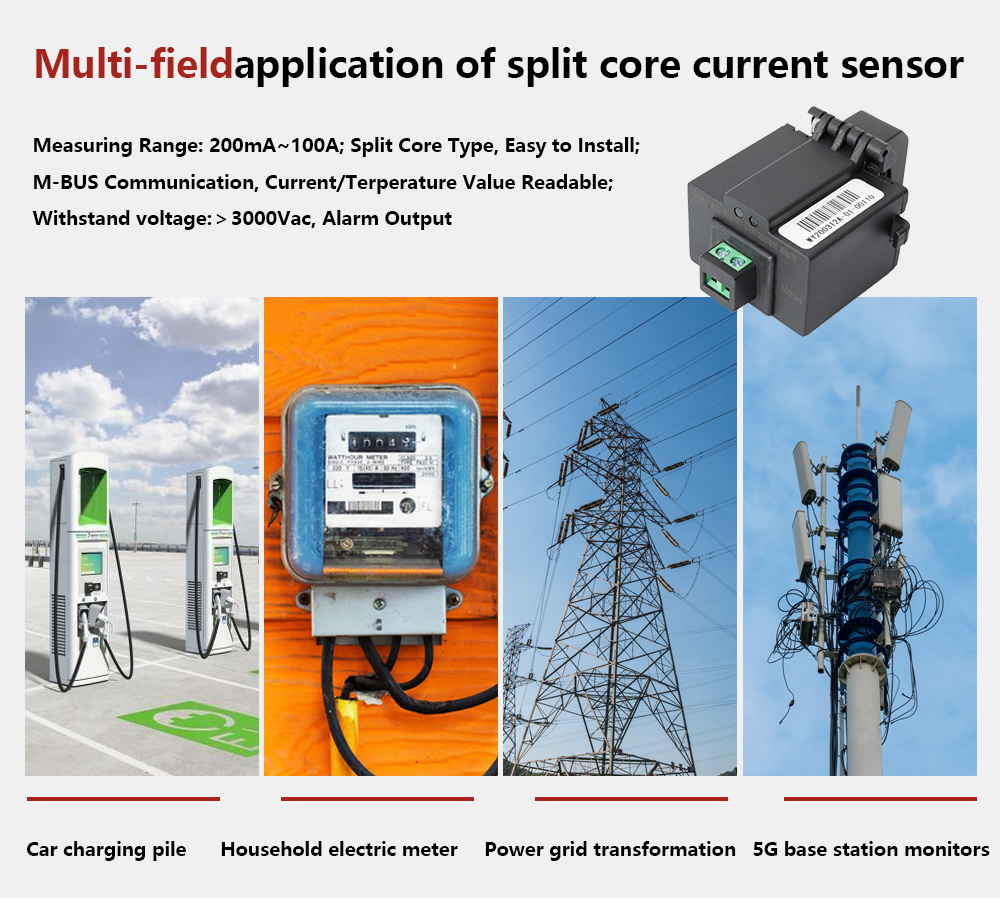 1.With M-BUS communication, current and temperature values can be read.(voltage,current,Kwh can be customized)
2.Split coce structure, without destroying circuit, low cost, easy installation, machined by mirror surface, the contact surfaces are more compact and restless.
3.Alarm output function: Overheat alarm/overcurrent alarm. With the output function of over current or over temperature alarm, by setting the upper limit of the current or temperature.
Product Parameters
Measuring Current Range: 200mA~100A
Current accuracy : Class 1
Temp accuracy: 2℃
Rated frequency: 50~60Hz
Threading bore dimension: ≤φ12mm
Response time: 200mS
Withstand voltage: >3000Vac
Temp range: -20/+85℃
Applications
1:Current measurement, monitoring and protection for electrical wiring and equipment.
2:Current and power measurement for electric motors, lighting, air compressor,heating and ventilation system, air-condition equipment and automation – control system.
3:Current, power and energy monitoring device.
4:Relay protection device.