MD0630T01A EVSE 6mA DC 30mA AC RCMU Protection Differential Current Sensor for 22KW Wallbox Charger
Product Overview

Many EV charger manufacturers have contacted us to buy IVY Metering residual current sensors that are core components for mode 2/mode 3 EV chargers designed as type-B RCD/RCMU. IVY team have supported in most of them going through the process of integrating our residual current detecting technology into their EV chargers successfully. The basic request of these professional European customers is to find alternative suppliers that can deliver high-quality AC/DC fault current sensors (also named residual current sensors, residual current device, residual current monitoring unit or leakage current sensors) to mitigate their supply chain risk.
MD0630T01A is a high sensititivity AC DC leakage current sensor which has the characteristics of accurate measurement, small size and integration. The leakage sensor can be set separately for AC and DC leakage. An alarm signal is generated when the set current is reached. The leakage sensor has a digital output function, which can directly read the current value of DC and AC. This residual current sensor will detect DC and AC residual currents in 50Hz/60Hz AC installations according to IEC62955. It's primarily intended for use in Electric Vehicle charging stations to disconnect the supply to the Electric Vehicle under a DC residual fault current condition. It will protect against DC (6mA) and AC (30mA) residual currents, and will signal to the Smart EVSE if a fault occurs.
MD0630T01A residual current monitoring device monitors and immediately stops electrical risks that can occur during EV charging. The RCD monitor is cost effective as it has no built-in circuit breaker. When the leakage current is detected, an alarm signal will be sent out automatically. MD series Type B RCM/RCD is an ideal protection device against different leakage currents in applications of PV inverters, medical equipment, industrial automation, UPS devices, EV charging facilities, DC screen, fire distribution cabinet, IOT field etc. It is the technology that brings us closest to protection for all known residual fault currents. In addition, our delivery time is also guaranteed.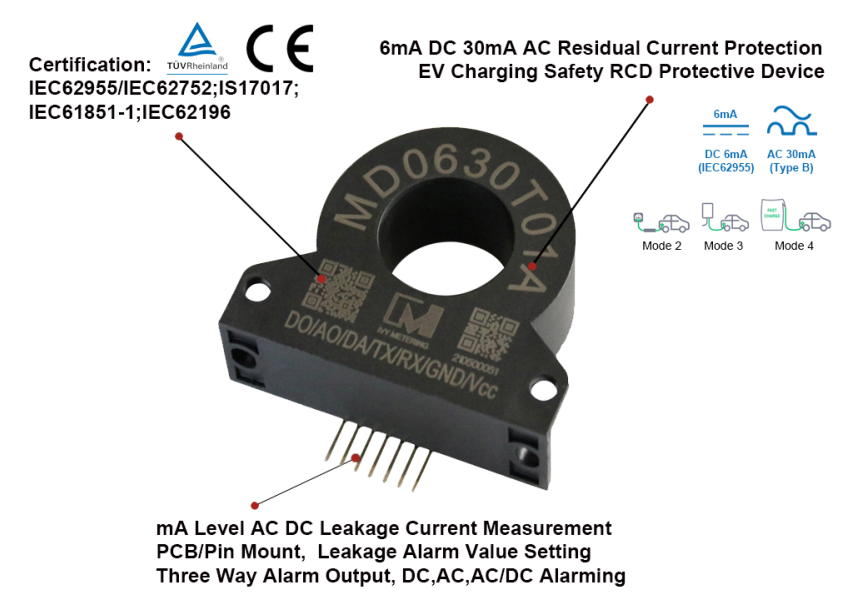 Product Features
1. Complies with the DC and AC protection requirements of IEC62752 or IEC62955
2. Small Size; Integration Design; Vertical(Pin, Pin&Cable Type)/Horizontal(Cable Type) Mounting Optional
3. Integrated self-monitoring and test functions; 3000A surge withstand capability
4. AC DC Leakage Data Readable; Alarm Value Programmable; 3 Way Alarm Outputs; Digital Output
5. URAT Comm, with Modbus Protocol; Standard: EN 61000-6-3:2007+A1, EN IEC 61000-6-1:2019
6. Professional Certification: TUV(IEC62955/IEC62752/IEC61851-1/IEC62196); UL2231-1/UL2231-2; IS17017; CE-EMC
7. Type B RCD/RCMU for EV Charger Protection; Electrical Safety at Low Cost (Compared to Type B RCCB)
8. Robust Mechanical and Electrical Design for Harsh Environmental Conditions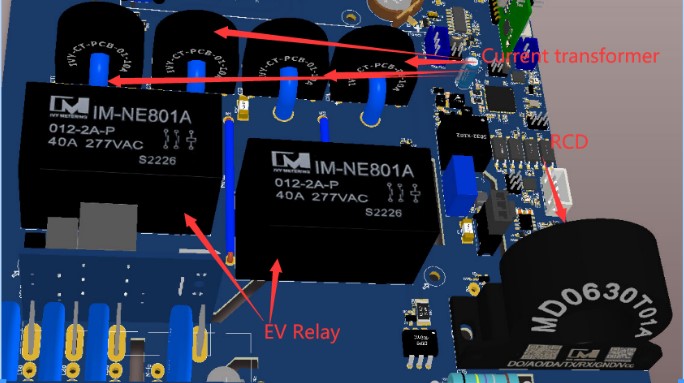 Product Parameters

Wide voltage input: 12V±20%
Measuring current range: DC current 2-15mA; AC current 3-100mA (default threshold: DC 6mA, AC 30mA)
Accuracy : at 25℃, DC±0,2mA, AC±0.3mA
Can read current value and set alarm current value
Three outputs: DC alarm, AC alarm, AC/DC alarm
Working environment temperature: -25℃~+80℃
Plastic case, small SIP package
EV Charger Application

Leakage current measurement for OBC in-cable (mode 2) and for wall boxes (mode 3) contact and protection device
Automotive On Board Chargers (OBC) 1-3 phases 3.3 kW to 22 kW
V2X Vehicle to Everything (V2G Vehicle to Grid,V2L Vehicle to Load)
Insulated or None insulated On Board Charger
Wall box charger