IM601 UC2 Certified 32A 40A 220V Spdt Bistable Latching Relay for Solar Power Generator
Prouduct Details
IM601 is 60A high power magnetic latching relay, which can be used in new energy field.

Custom Assemblies with Integrated Shunts, Flex-wire and Copper Extensions and Brass Terminals.

Dielectric Strength of 4kV

RoHS Compliant Materials and Process

The automotive Latching Relay is Widely used in Energy Meter,RCCB, EV Charger, IOT Device etc.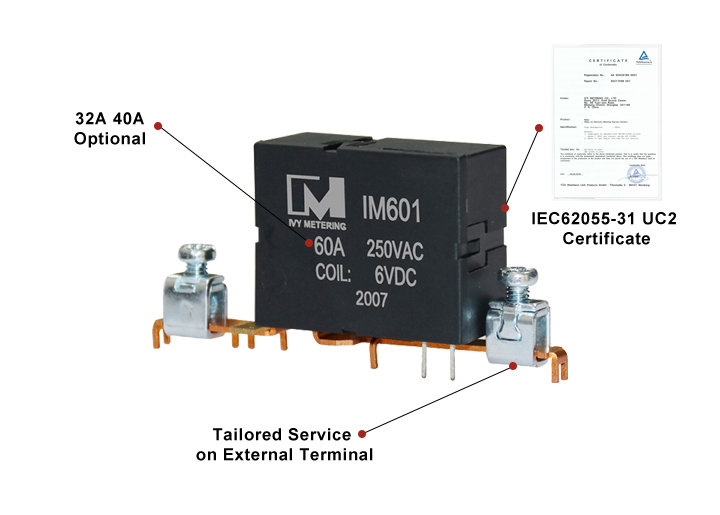 Product Parameters
Rated Load: 60A 250VAC

Contact Form: 1A/B

Contact Material: AgSnO2

Max. Switching Voltage: 250VAC

Max. Switching Current: 60A

Max. Switching Power: 15000VA

Contact Resistance: <1.5mΩ

Pick-up Time: 20ms

Release Time: 20ms

Electrical Endurance: 10000 Cycles

Mechanical Endurance: 100000 Cycles

Temp.Rise: ≤55K When Ambient 40℃
Features
Rated Coil Consumption: 1.5 / 3W(20ms)

Cost Efficiency & Surge Protection

Single Coil Double Coil Optional

Compact Size:38*30*16.5mm

External Shielding Case Available

Short Circuit per IEC 62055-31 UC2 Certificate
Application Cases