MD0630T01A Verticle Type 6mA AC/DC Integrated Residual Current Detection Leakage Sensor for Wallbox AC Charger
Product Overview

MD0630T01A is a high sensititivity AC DC leakage current sensor for electric vehice charging station, which can also be called residual current sensor, residual current monitor (RCM), residual current device(RCD), differential current sensor, leakage detection sensor, fault current sensor etc.
To satisfy new standards including IEC 62955,IEC 62752, IEC 61851-1,and UL 2231-1 etc, the charging of electric vehicles requires leakage current sensors to avoid hazardous situations in cases where the vehicle battery(DC) is connected to the home power supply(AC).
Generally, AC DC Sensitive residual current sensors can be used where DC and AC circuits are directly connected and therefore AC DC leakage currents occur. our MD series leakage sensor would be required to guarantee safety in the event of DC fault current. Used in electric vehicle charging pile (mode 2 and 3 protection)
Product Features

1. DC 2-15mA, AC 3-100mA, Alarm Output: DC 6mA AC 30mA
2. Small Volume, Integration Design,Vertical(Pin, Pin&Cable Type)/Horizontal(Cable Type) Mounting Optional
3. Digital Output and Detection of Fault and Leakage Current
4. AC DC Leakage Data Readable; Alarm Value Programmable; 3 Way Alarm Outputs
5. URAT Comm. with Modbus Comm.Protocal
6. Professional Certified IEC 62955/IEC 62752/IEC 61851-1; UL 2231-1/UL 2231-2; TUV; CE-EMC Certified
7. Leakage Current Measurement for Mode 2 and Mode 3 EV Charging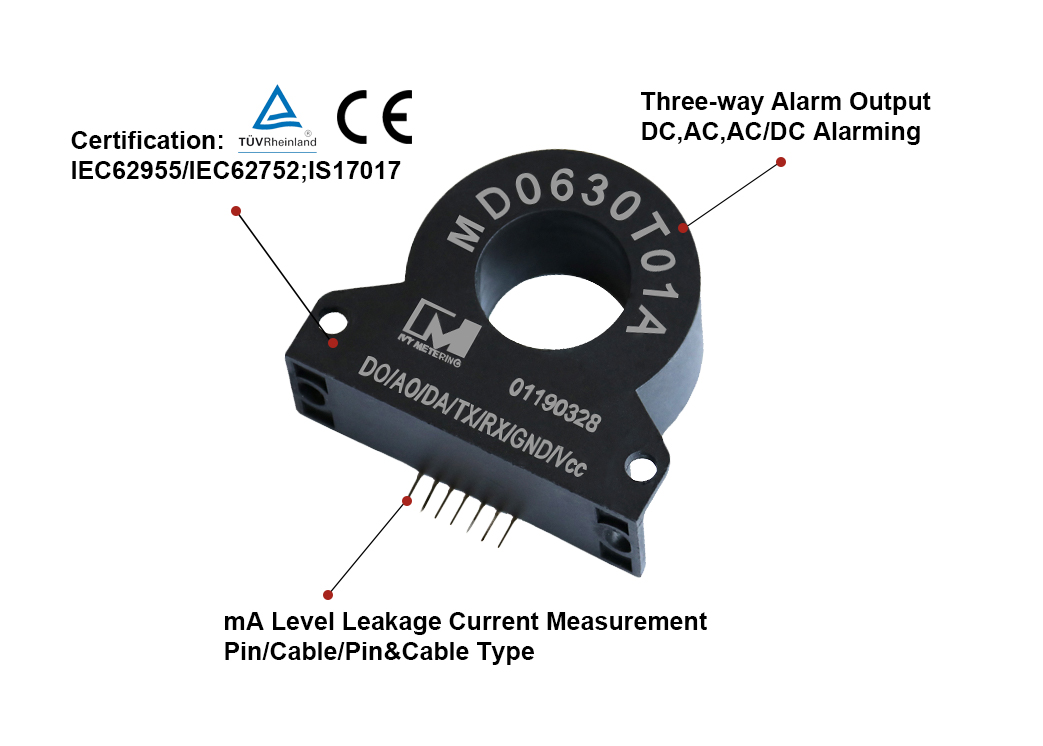 Product Parameters

Wide voltage input: 12V±20%
Measuring current range: DC current 2-15mA; AC current 3-100mA (default threshold: DC 6mA, AC 30mA)
Accuracy : at 25℃, DC±0,2mA, AC±0.3mA
Can read current value and set alarm current value
Three outputs: DC alarm, AC alarm, AC/DC alarm
Working environment temperature: -25℃~+80℃
Plastic case, small SIP package
Application: Charging Mode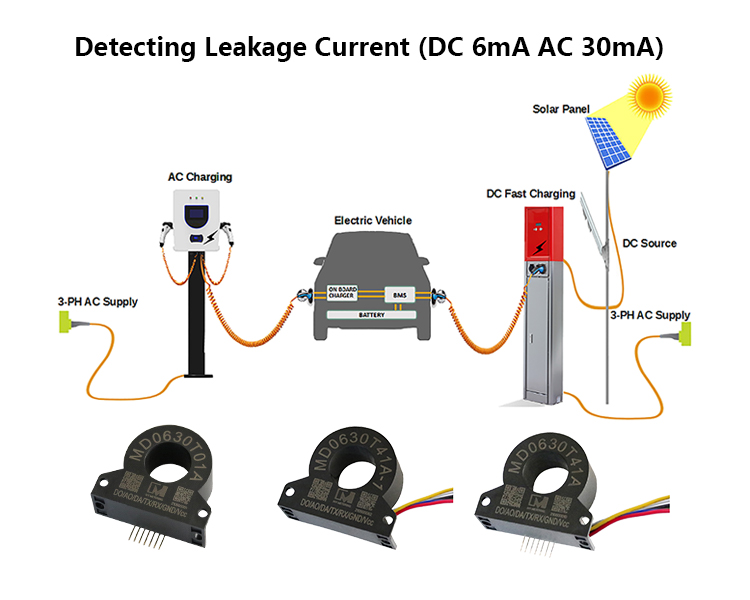 Cautions of Smart Sensor:
1.Current value- Please specify your measurement range as per your application, for example if you are going to
use it for detecting and sensing mA level or high current range such as 500A/600A shall be first factor.
2.AC,DC,or both AC&DC shall be the second factor. Now current sensor on the market usually are AC or DC type.
But if you need both AC& DC you may need to use IVY brand- AC DC leakage sensor.
3.Parameters-Please confirm what kind of parameters shall be measured or detected. For example our smart sensor

with shunt can readout current, voltage,kWh, kVar, Cosφ, Hz, THF, current cycle, starting waveform.
4.Communication-RS485,M-bus, UART serial port are optional, if you have more requirements we can also develop for you.
5.Installation Method, after making above decision you may also need to confirm the output terminal type, for example we have
shunt / terminal / pillar / pins/ cable etc.

6.As there are many models of smart electrical sensor, plz refer to the detailed specification and use it as per the instruction.