IM601 32A 40A 60A Bistable Smart Meter Latch Relay EV Relay with Customized Terminal
Prouduct Details
Latching Relay is a kind of automatic switching component with isolation function, which is widely used in Remote control, remote measuring, telecom, automatic control, integration of machinery and Electrification, electric and electronic equipments. It's one of the most important controlling Components.

We are a leading Supplier of Latching Relay for Energy/Smart Meters - IVY. We are supplying latching relays, magnetic latching relays, 90A latching relays, 120A latching relays, 80a latching relays, 60a latching relays, magnetic relays, 80a latching relays with two pole, 100a latching relays, photovoltaic relays, home appliances relays, solar relays, dc power relays, meter relays and many more.
IM601 is breaking current capability 32A 40A 60A magnetic latching relay. As a electromagnetic power relay(6~48VDC optional), it has stable performance and long service life. the bistable latching relay has the following characteristics:

Switching Capacity: 60A,250VAC; Single/Dual Coil Optional
Complying with IEC62055-31 UC2 Certified.
Tailored design based integration (PCB terminal/CT/Shunt).
As a new energy relay, wide application for EV charger and PV Inverter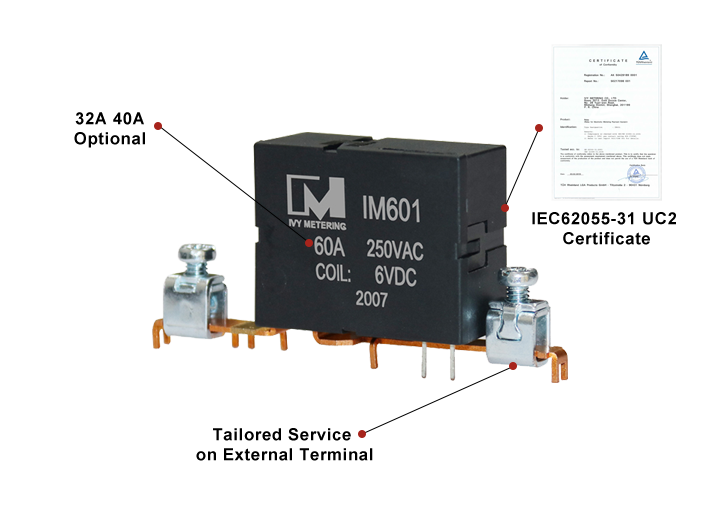 Product Parameters
Dimension(mm) 38×30×16.5

Weight ( g ) ≈33g

Contact Arrangement 1A/1B

Contact Material AgSnO2

Ambient Temperature -40~+70℃

Ambient Humidity 45%~90%RH

Vibration 10~55Hz,1.5mm(DA)

Nominal Voltage 6~48VDC

Power Consumption Single Coil:1.5W, Dual Coil:3W

Max. Switching Voltage 250VAC

Max. Switching Current 60A

Max. Switching Power 15000 VA

Contact Resistance <1.5 mΩ

Insulation Resistance 1000MΩ(DC 500V)

Dielectric Creepage 10mm

Electrical Life >10,000cycles

Mechanical Life >100,000cycles
Product Description