IM601 IEC62955 32A 60A 250VAC 2 Coils 12VDC SPST NO Latching Power Relay for EVSE Charger
IVY Latching Relay

IVY specializes in the development and manufacturing of high-quality latching relays. We offer a line of latching relays spanning from 32A to 200A for single-phase Two-phase and three-phase switching purposes. our relays meet the industry's highest performance standards and offer the best value in the energy management market. In particular, we have developed an innovative relay switch-motor latching relay. IVY latching relays are highly customisable with many variants of terminal arrangements, which can be made to suit customer's needs. Shunts and current transformers can also be included to special order.
IM601 is a small industrial bistable latching power relay with continuous current up to 60A, and switching 60A 250VAC. Single and Double coil latching. Used in utility meters and for solar, EV charger and energy conservation.

AC switching elements are a crucial part of safety and protection function in charging stations and cables. Key parts of the IVY line-up are the 40A IM-NE801A 2 pole power relay and 60A IM601 bistable relay. Both types are availabe with a mirror contact according to IEC 60947-1 and VDE / TUV/UL approvals. They can be used in the latest generation of wallboxes which fulfill either IEC 61851-1 or the recent IEC 62955 norm.
IM601 32A 40A 60A Bistable Latching Relay
Switching Capacity: 60A, 250VAC; Single/Dual Coil Optional
Can be Used as EV Charger Relay/Solar PV Relay
4kV dielectric strength between coil and contacts
Custom assemblies available with flex wire and/or copper straps, and/or with integrated shunt
RoHS compliant materials and process
IEC62055-31 UC2 Certified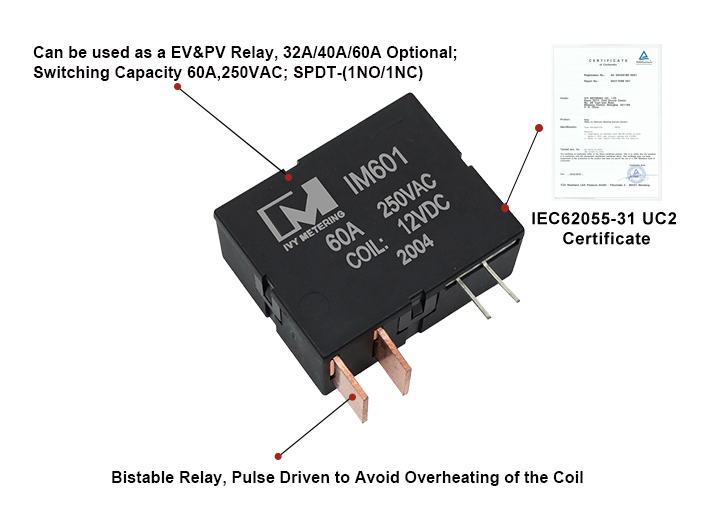 Application Scenarios

1) Smart meters: IC card meters, prepaid meters, single-phase meters, three-phase meters.
2) Reactive power compensation: synchronous switch, composite switch, smart capacitor.
3) Intelligent control: smart home, solar street light control, automation equipment, etc.
4) New Energy Field: EV charger, PV Inverter
Product Parameters
Dimension(mm) 38×30×16.5

Weight ( g ) ≈33g

Contact Arrangement 1A/1B

Contact Material AgSnO2

Ambient Temperature -40~+70℃

Ambient Humidity 45%~90%RH

Vibration 10~55Hz,1.5mm(DA)

Nominal Voltage 6~48VDC

Power Consumption Single Coil:1.5W, Dual Coil:3W

Max. Switching Voltage 250VAC

Max. Switching Current 60A

Max. Switching Power 15000 VA

Contact Resistance <1.5 mΩ

Insulation Resistance 1000MΩ(DC 500V)

Dielectric Creepage 10mm

Electrical Life >10,000cycles

Mechanical Life >100,000cycles