MD0630T41A-1 IEC62955 EV RCD Protection 6mA DC 30mA AC RCM Residual Current Monitoring Device with Cable
Product Details
MD0630T41A-1 is a portable AC DC protection residual current monitoring device. It has the characteristics of high sensitivity, correct measurement, small size and compact/integration design. The residual current monitor can be set separately for AC and DC leakage. When leakage current is detected, an alarm signal is generated, and the switch control signal is output at the same time. The RCD sensor is connected in series with the AC supply to an EV and will provide a signal output if a DC current ≥ 6mA DC flows in the circuit. It can monitor DC (6mA) and AC (30mA) residual currents, and will signal to the Smart EVSE if a fault occurs.
MD0630T41A-1 is designed for use in e-mobility infrastructure and AC charging station designs to monitor leakage currents in mode two/three/four electric vehicle charging.
It is suited for AC/DC residual current measurement, identifying AC and DC residual (earth fault) currents in combination with charge controllers and residual current monitoring modules.

This new current sensor is practical and more cost effective for integrators to use and install into charging solutions. It measures currents in accordance with IEC 62752 and 62955, ensuring safe, compliant charging.

This is new type of Fluxgate Current Sensor; it's based on the principle of magnetic modulation. It can be used to measure leakage currents including DC, AC, and AC and DC stacks, generally used as a DC leakage current detection and protection in equipment that uses DC operation.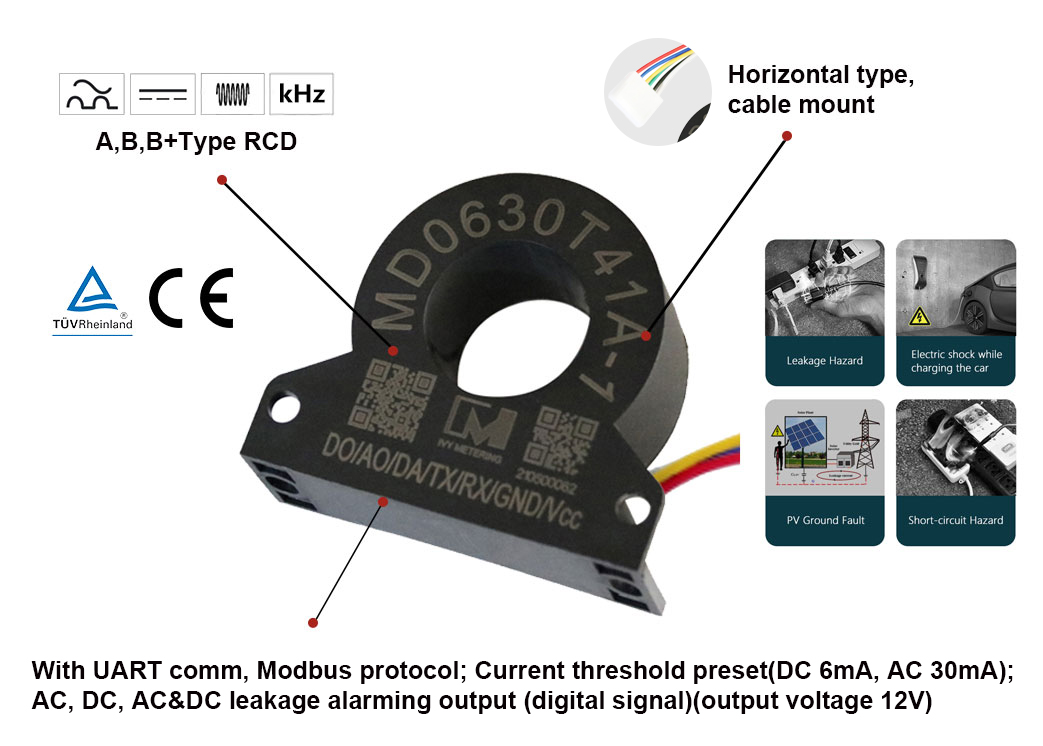 Product Feature
1. Fixed 6mA DC and 30mA AC trip levels; B-type RCD protection(Type A(AC 30ma)+DC 6mA)
2. Small Size, Integration Design, Vertical(Pin, Pin&Cable Type)/Horizontal(Cable Type) Mounting Optional
3. Integrated self-monitoring and test functions, Digital Output, Residual Fault Leakage Current Protection
4. AC DC Leakage Data Readable; Alarm Value Programmable; 3 Way Alarm Outputs
5. UART Comm, with Modbus Protocol; Standard: EN 61000-6-3:2007+A1 ,EN IEC 61000-6-1:2019
6. Professional Certification: TUV(IEC62955/IEC62752/IEC61851-1/IEC62196); UL 2231-1/UL 2231-2; CE-EMC
7. EV Chager Load Current: Single Phase up to 200A; Three Phase up to 150A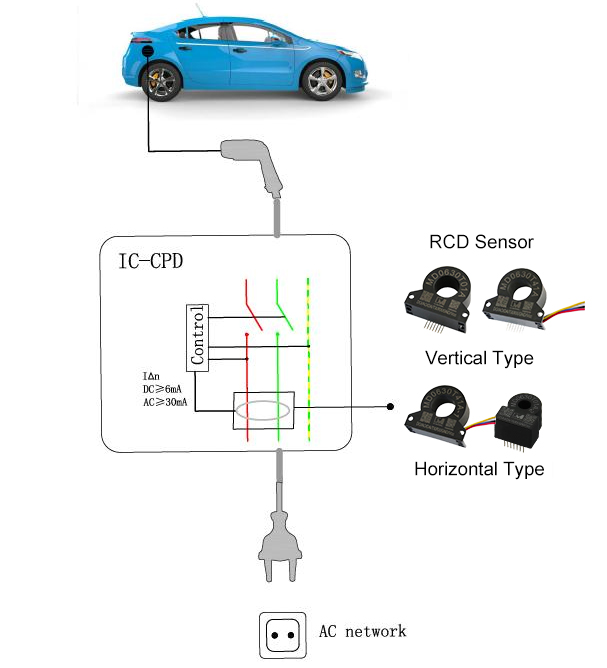 Product Parameters
Wide voltage input: 12V±20%
Measuring current range: DC current 2-15mA; AC current 3-100mA (default threshold: DC 6mA, AC 30mA)
Accuracy class: at 25℃, DC±0,2mA, AC±0.3mA
Working environment temperature: -25℃~+80℃
Installation: Cable Type
Plastic casing: SIP encapsulation
What is IEC 62955 DC 6mA leakage current protection?
IEC 62955 - Residual direct current detecting device (RDC-DD) to be used for mode 3 charging of electric vehicles. This International Standard applies to residual direct current detecting devices (RDC-DD) for permanently connected AC electric vehicle charging stations (mode 3)
MD0630T41A-1 is a type B RCD/RCM sensor, which are used where DC residual currents could occur, in addition to normal AC, can detect high-frequency AC and pure DC earth leakage currents. The tripping conditions are defined with different frequencies from 50Hz to 1kHz. Reducing the risk of fire or electrocution through output digital alarm signal. MD series Type B RCD is an ideal protection device against different leakage currents in applications of electric vehicle charging, photovoltaic systems (solar panels), industrial device, medical device, new energy, DC screen, fire distribution cabinet, IOT field etc.
EV Charging Application
Charging mode 2
IC-CPD in charging cables for electric vehicles (EV) and plug-in hybrid electric vehicles (PHEV)
Charging mode 3
Wallboxes for charging EV and PHEV
Charging piles for charging EV and PHEV
Charging mode 4
DC Charger