MD0630T01A-2 CE Portable Mini Pin Type RCD Monitor AC DC Leakage Protection EV Residual Current Transformer
Product Introduction
With the diversification of energy and equipment use, the interactive use of alternating current and direct current and products with many different waveform signals, we need higher level residual current device to protect our personal safety and avoid the danger of electric shock. IVY Type B RCD sensor, in addition to normal alternating current, can detect high frequency AC and pure DC ground leakage currents.
MD0630T01A-2 is an automotive grade smallest residual current sensor also called residual current monitoring (RCM), residual current detection (RCD), differential current sensor, leakage current detector and fault current sensor. Type A, B and B+, dedicated to detect to DC, AC and DC+AC leakage current measurement. It is designed for EV charger(especially portable AC charger). The internal parts of the portable charger should be as small as possible, our new leakage detector is small and lightweight, which just meets this requirement. This residual current monitor will detect DC and AC residual currents in 50Hz/60Hz AC installations according to IEC62955. It's primarily intended for use in Electric Vehicle charging stations to disconnect the supply to the Electric Vehicle under a DC residual fault current condition. It will protect against DC (6mA) and AC (30mA) residual currents, and will signal to the Smart EVSE if a fault occurs.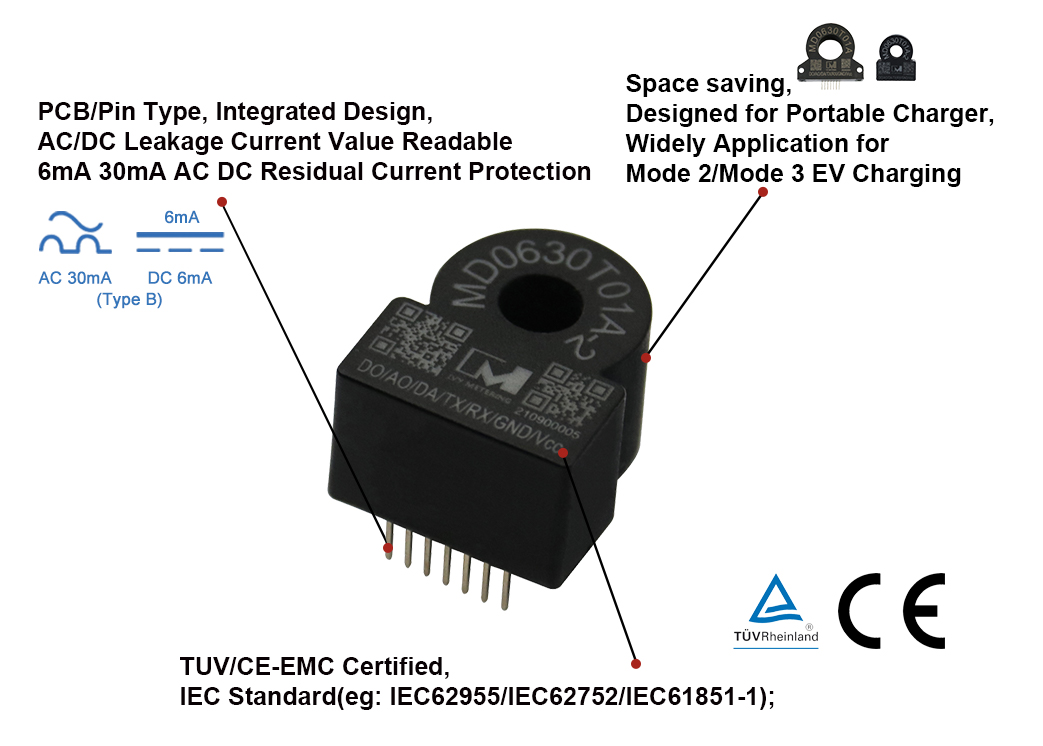 Product Advantages

Ultra-small, Flexible, Integration Design, Residual current range 2~100 mA
Switching output for 6 mA DC/30 mA (IEC) or 5 mA /20 mA (UL 2231)
Digital Output, Measurement resolution DC 0.2 mA AC 0.3mA
Full load current up to 200A (1-phase) or 150A (3-phase)
AC DC Leakage Data Readable; Alarm Value Programmable; 3 Way Alarm Outputs
Robust mechanical design suitable for harsh electronic environments
Total system cost significantly reduced compared to type B RCCB
UART Comm. with Modbus Protocol; Standard: EN 61000-6-3:2007+A1 ,EN IEC 61000-6-1:2019
Product Parameters

Wide voltage input: 12V±20%
Measuring current range: DC current 2-15mA; AC current 3-100mA (default threshold: DC 6mA, AC 30mA)
Accuracy : at 25℃, DC±0,2mA, AC±0.3mA
Installation: PCB/Pin/Vertical Type
Three outputs: DC alarm, AC alarm, AC/DC alarm
Working environment temperature: -25℃~+80℃
Appearance: Plastic case, small SIP package
EV Charging Applications
In electric vehicle charging if the DC fault current is greater than 6mA, it could change the characteristics of a Type A RCD due to its core saturation, resulting in the type A failing to trip and a lack of detection of the DC fault. In this instance, the risk of electric shock is increased, and safety is compromised. IVY has launched a new Type B RCD sensor that is designed to detect a DC earth fault, which is more cost-effective than using a Type B RCCB. In the event of a dangerous electrical fault, the sensor will output an alarm signal (by setting the leakage alarm value). This new RCD sensor enables compliance with the updated IEC62955:2018 and reduces the cost of developing electric vehicle charging solutions.