IM601 Smart Meter Remote Control Switch 60A 12V SPST High Power Magnetic Bistable Latching Relay
IVY Latching Relay
Latching Relay is a kind of automatic switching component with isolation function, which is widely used in Remote control, remote measuring, telecom, automatic control, integration of machinery and Electrification, electric and electronic equipments. It's one of the most important controlling Components.
IVY specializes in the development and manufacturing of high-quality latching relays. We offer a line of latching relays spanning from 32A to 200A for single-phase Two-phase and three-phase switching purposes. our relays meet the industry's highest performance standards and offer the best value in the energy management market. In particular, we have developed an innovative relay switch-motor latching relay. IVY latching relays are highly customisable with many variants of terminal arrangements, which can be made to suit customer's needs. Shunts and current transformers can also be included to special order.
IM601 60A Magnetic Latching Relay

Small size, 60A switching capability, single/dual coil optional
Low coil consumption,ultra-low temperature rise.
Low contact resistance.
Strong anti-shock and anti-vibration capability.
4kV dielectric strength between coil and contacts
Custom assemblies available with flex wire and/or copper straps, and/or with integrated shunt
RoHS compliant materials and process
IEC62055-31 UC2 Certified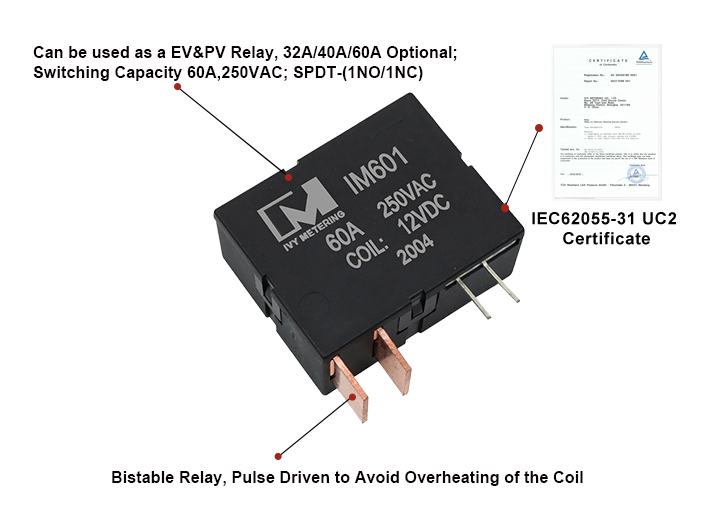 Product Parameters
Dimension(mm)

38×30×16.5

Weight ( g )

≈33g

Contact Arrangement

1A/1B

Contact Material

AgSnO2

Ambient Temperature

-40~+70℃

Ambient Humidity

45%~90%RH

Vibration

10~55Hz,1.5mm(DA)

Nominal Voltage

6~48VDC

Power Consumption

Single Coil:1.5W, Dual Coil:3W

Max. Switching Voltage

250VAC

Max. Switching Current

60A

Max. Switching Power

15000 VA

Contact Resistance

<1.5 mΩ

Insulation Resistance

1000MΩ(DC 500V)

Dielectric Creepage

10mm

Dielectric Strength

Across Open Contact

>1500VAC 1min




Coil to Contact

>4000VAC 1min

Electrical Life

>10,000cycles

Mechanical Life

>100,000cycles

Picking-up & Release Time

≦20ms

Pulse Duration

≧100ms

Functional Shock Resistance

10G

Destructive Shock Resistance

100G
Application
- Prepayment energy meter

- Smart meter
- Solar PV System, EV Charger
- Concentrated meter reading system
- Street lamp control system
- Compound switch, Combination switch
- Automatic control device/ system
- AMR system
- Elevator control