IM1201 Relay Manufacturer 120A 250VAC Dual Coil 24V High Power Mechanical Latching Relay
Product Detail
Latching relay is a new type of relay which uses magnetic principle to control circuit's on and off. Its normally open and closed state are provided completely by permanent magnet steel'working and completed the conversion of on-off state base on the triggering of a certain width pulse signal.
We are a leading Supplier of Latching Relay for Energy/Smart Meters - IVY. We are supplying latching relays, magnetic latching relays, 90A latching relays, 120A latching relays, 80a latching relays, 60a latching relays, magnetic relays, 80a latching relays with two pole, 100a latching relays, photovoltaic relays, home appliances relays, solar relays, dc power relays, meter relays and many more.
IM1201 is an IEC 62055-31:UC3 certification high power latching relay built for the global metering market. This relay is able to switch 120 Amps while still maintaining a very low temperature rise. It is also available with an integrated shunt.
IM1201 is ideally designed for electric meters for the global metering market. Our metering customers have been pleased with the product's performance and reliability. Given our ability to understand our customer's needs, we've been able to design, build, and test customized solutions that allow them to receive our products and plug them right into their systems without additional assembly.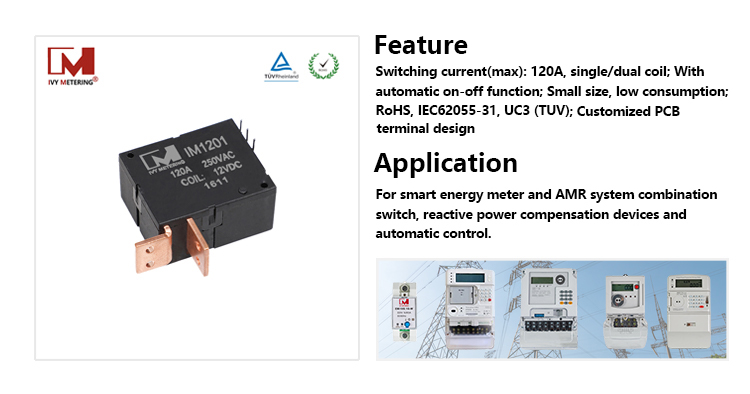 Product Feature

●Switching Capacity: 120A, 250VAC
●Rated Coil Consumption: 2.0/4.0W(30ms)
●Dielectric Strength of 4kV
●Cost Efficiency & Surge Protection
●Single Coil Double Coil Optional
●Compact Size:42*35*21.5mm
●External Shielding Case Available
●RoHS Compliant Materials and Process
●Short Circuit per IEC 62055-31 UC3 Certificate
●Custom Assemblies with Integrated Shunts, Flex-wire and Copper Extensions and Brass Terminals
●Wide Application for Energy Meter, RCCB, EV Charger, IOT Device, Ligting System, Industrial Control.