MD0630T01A EV Charger RCMU AC 30mA DC 6mA CFCI CT RCD Protection Leakage Current Sensor with UART
Product Overview

MD0630T01A is a high sensititivity AC DC leakage current sensor. which can also be called residual current sensor, residual current monitor (RCM), residual current device(RCD), differential current sensor, leakage detection sensor, fault current sensor etc.
The AC/DC sensitive residual current monitoring module is suitable for fault current monitoring in charging stations where direct and/or alternating fault currents are likely to occur the value of which is constantly greater than zero.
The residual current monitoring device detects the residual current caused by leakage and residual currents in the conductors passed through the measuring current transformer.
The residual current monitoring module measures AC and DC currents and issues alarm signal when the DC component of the residual current reaches a preset value.
To satisfy new standards including IEC 62955 and IEC 60364-7-722, the charging of electrical vehicles requires residual current sensors to avoid hazardous situations in cases where the vehicle battery (DC) is connected to the home power supply (AC). Generally, AC/DC sensitive residual current sensors can be used where direct current and alternating current circuits are directly connected and therefore AC/DC leakage currents can occur.
By using a IVY RCD current sensor integrated into an IC-CPD or wall box, customers can save the high costs of installing a type B RCCB to provide all-current sensitivity and electrical safety at low cost.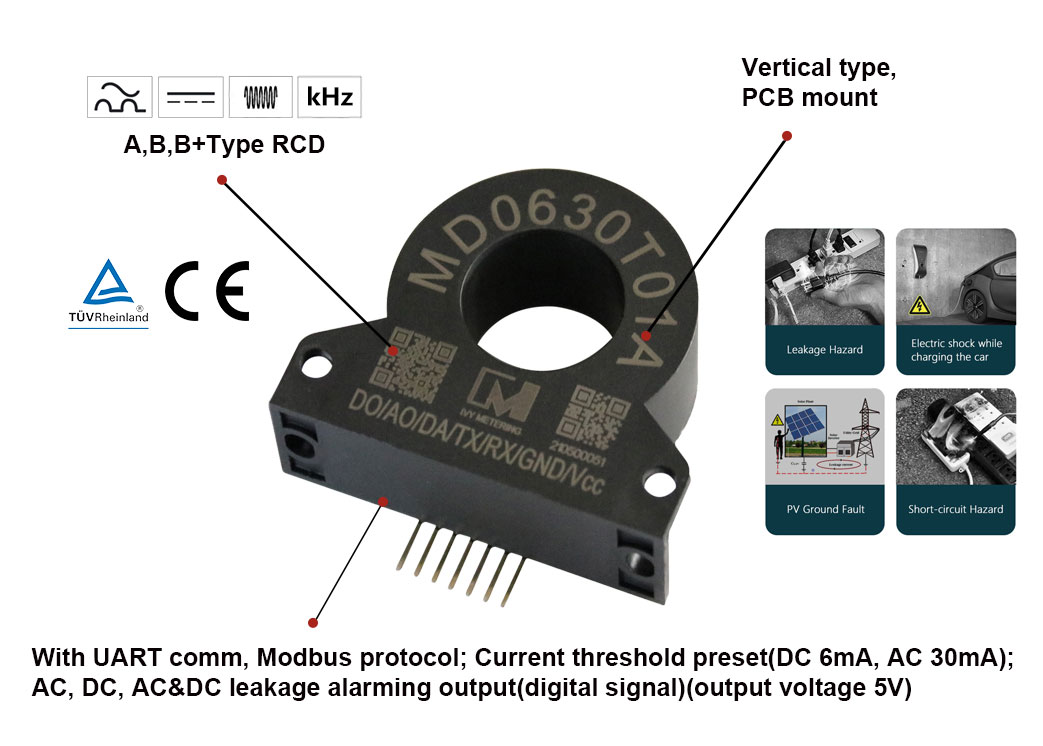 Product Features
1. Small Size; Integration Design; Vertical(Pin, Pin&Cable Type)/Horizontal(Cable Type) Mounting Optional
2. Integrated self-monitoring and test functions; 3000A surge withstand capability
3. AC DC Leakage Data Readable; Alarm Value Programmable; 3 Way Alarm Outputs; Digital Output
4. URAT Comm, with Modbus Protocol; Standard: EN 61000-6-3:2007+A1, EN IEC 61000-6-1:2019
5. Professional Certification: TUV(IEC62955/IEC62752/IEC61851-1/IEC62196); UL2231-1/UL2231-2; IS17017; CE-EMC
6. Type B RCD/RCM for EV Charger Protection; Electrical Safety at Low Cost (Compared to Type B RCCB)
7. Robust Mechanical and Electrical Design for Harsh Environmental Conditions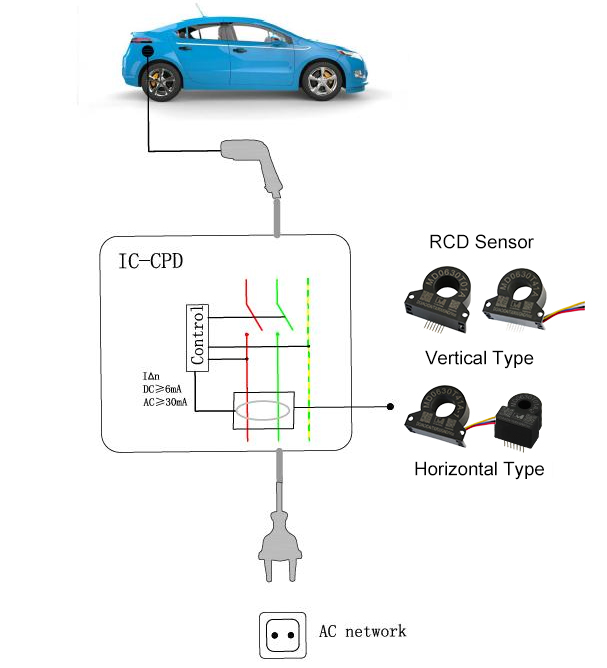 Product Parameters

Wide voltage input: 12V±20%

Measuring current range: DC current 2-15mA; AC current 3-100mA (default threshold: DC 6mA, AC 30mA)

Accuracy : at 25℃, DC±0,2mA, AC±0.3mA

Can read current value and set alarm current value

Three outputs: DC alarm, AC alarm, AC/DC alarm

Working environment temperature: -25℃~+80℃

Plastic case, small SIP package

1.Being able to detect smooth DC residual currents which can occur in EV charger stations and photovoltaic systems, IVY RCD guarantees the safety of the people and of the installation
2.can guarantee dependable protection for field technicians and installed machinery by detecting high frequency residual current and protecting against smooth DC residual currents in the event of a fault.
3.can prevent damage to installed equipment and avoid operational impacts in situations where service interruption and out of order can cause discomfort.
4.In installation where we cannot necessarily withstand any sort of interruption, IVY RCD can minimize outages, equipment damage, failures and interruption of any critical operation