IM-M1002 Anti-magnetic Field 500mT 80A 250VAC 12V Coil UC3 Mini Motor Latching Relay for Smart Meter
Prouduct Details
Latching relay is a new type of relay which uses magnetic principle to control circuit's on and off. Its normally open and closed state are provided completely by permanent magnet steel'working and completed the conversion of on-off state base on the triggering of a certain width pulse signal.
We are a leading Supplier of Latching Relay for Energy/Smart Meters - IVY. We are supplying latching relays, magnetic latching relays, 90A latching relays, 120A latching relays, 80a latching relays, 60a latching relays, magnetic relays, 80a latching relays with two pole, 100a latching relays, photovoltaic relays, home appliances relays, solar relays, dc power relays, meter relays and many more.
IM-M1002 is a 80A high power motor latching relay with stable performance and small volume. It has following characteristics: Cost Efficiency & Surge Protection; Single Coil Double Coil Optional; External Shielding Case Available; RoHS Compliant Materials and Process; Custom Assemblies with Integrated Shunts, Flex-wire and Copper Extensions and Brass Terminals. As a miniature type latching relay, it also pass IEC62055-31 UC3 Certified.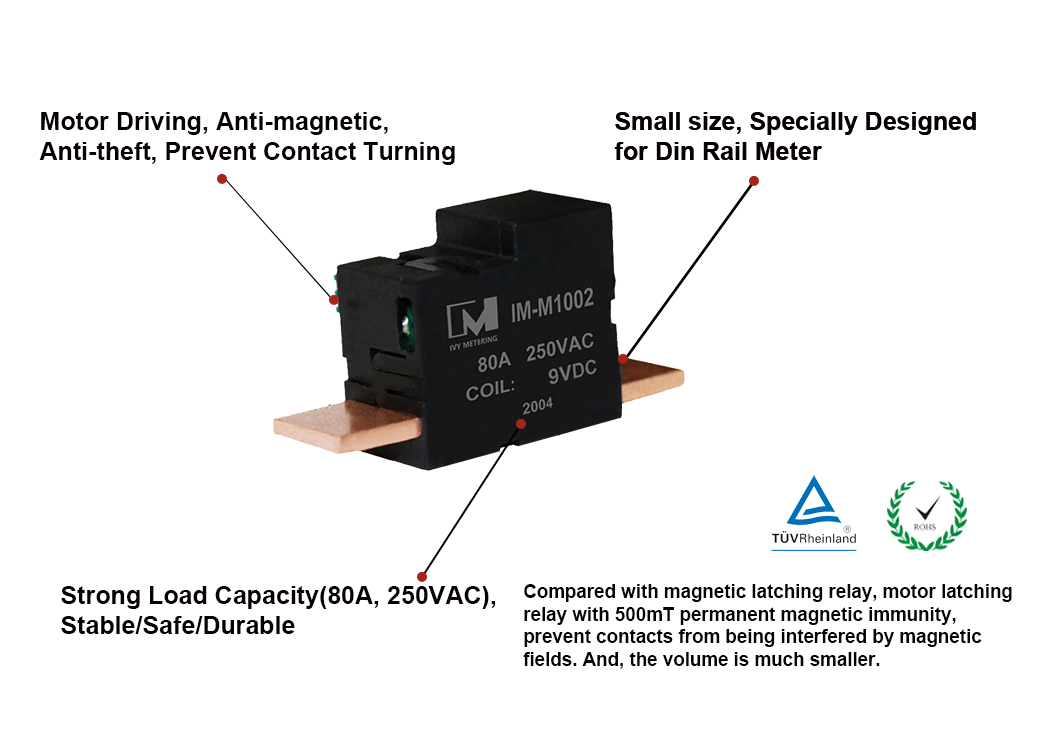 Product Feature
Contact Form:1A/B
Max.Switching Current:80A
Permanent Magnetic Immunity to 500mT
Power Consumption:3W(25ms)
Compact Design of Dimension:26.5*23.5*13.8mm
IEC62055-31 UC3 Certified with Appearance Patent
Application Scenarios
1) Smart meters: IC card meters, prepaid meters, single-phase meters, three-phase meters.
2) Reactive power compensation: synchronous switch, composite switch, smart capacitor.
3) Intelligent control: smart home, solar street light control, automation equipment, etc.
Product Parameter
Basic Data

Dimension (mm)

26.5*23.5*13.8

Weight

≈40g

Contact Form

1A/1B

Contact Material

AgSnO2

Ambient Temperature

-20~+55℃

Vibration

1.5mm(DA),10 to 55Hz

Shock

1000m/s²,(100G)

Power Consumption

<3W

Specifications Data

Rated Voltage

9V

Max. Switching Current

80A (250VAC)

Surge Immunity

6000A/10ms

Motor Resistance

14±2Ω

Contact Voltage

60mV

Contact Resistance

≦1.0mΩ

Dielectric Strength

Micro-motor to contact

>4000VAC,50/60Hz,1 Min




Across open contacts

>2000VAC,50/60Hz,1 Min

Electrical Endurance(120 cycles/H)

5,000 Cycles

Mechanical Endurance(3600 cycles/H)

100,000 Cycles

Pulse Time

Advise 30ms~40ms

Pick-up Time (@9V)

≦25ms

Release Time (@9V)

≦25ms

Insulation Resistance

≧1000MΩ(500VDC)