IM1201T 120A 3 Way Magnetic Latching Relay 24V 48V Single Coil Self Latching Relay
Prouduct Details
Latching relay is a new type of relay which uses magnetic principle to control circuit's on and off. Its normally open and closed state are provided completely by permanent magnet steel'working and completed the conversion of on-off state base on the triggering of a certain width pulse signal.

IM1201T is a three-phase latching relay. As a three-phase power latch relay, it has stable performance and long service life. The latch relay switch has the following characteristics:

Three poles contact(normally open, normally closed) three way control
Maximum switching current 120A, strong load capacity; single/dual coil optional
CT Assembled, Low Consumption, Pulse Driving, Environment-friendly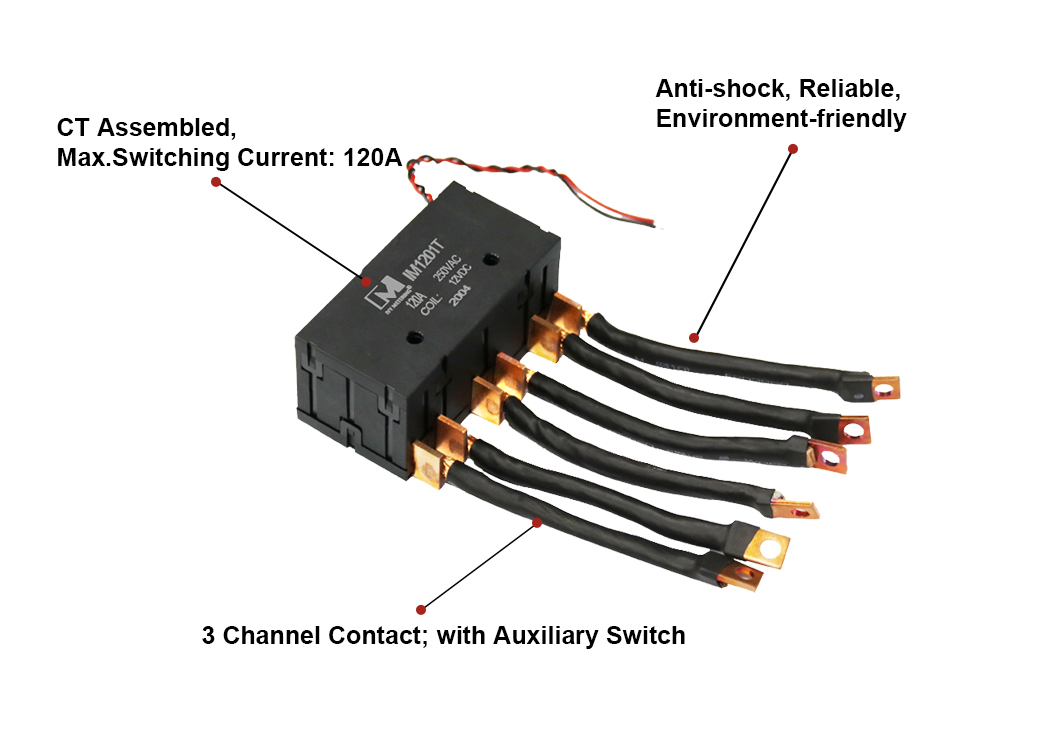 Our latching series relay are specifically made to cater for the requirements of smart meters, typical features include:
Compact in size

Low cost and very competitive price

Pulse coil driven with negligible energy consumption

Choices of single and dual coils

Very low temperature rise and minimal coil heat

Magnetic immunity and anti-tempering

Long mechanical and electrical life

Single phase models and polyphase models (with double-pole and three-pole relays available)

Wide range of contact current ratings (60A to 200A)

Meeting various international standards (e.g. UC3 )

Customised assemblies with stranded wires, brass terminals, CTs, shunts and even meter cases
Product Parameters
Rated Load 120A 250VAC

Contact Form 3A/3B

Rated Coil Consumption: 3.0/6.0W(30ms)

Dielectric Strength: 4kV

Compact Size:78.6*40.3*37.8mm

Contact Material: AgSnO2

Max. Switching Power: 30000VA

Contact Resistance; <2.0mΩ

Pick-up Time; 30ms

Release Time: 30ms

Electrical Endurance; 10000 Cycles

Mechanical Endurance; 100000 Cycles

Temp.Rise; ≦55k

Ambient Temperature: -40℃~70℃

Ambient Humidity; 5%~98%RH
TYPICAL APPLICATION:
Mainly used for prepayment electric energy meters, RS485 meters with the break & make function used in centralized meter reading system;
It might also be used for combination switches of electiric power factor compensation switch-capacitor, home appliances and automatic control devices.